Decision Layout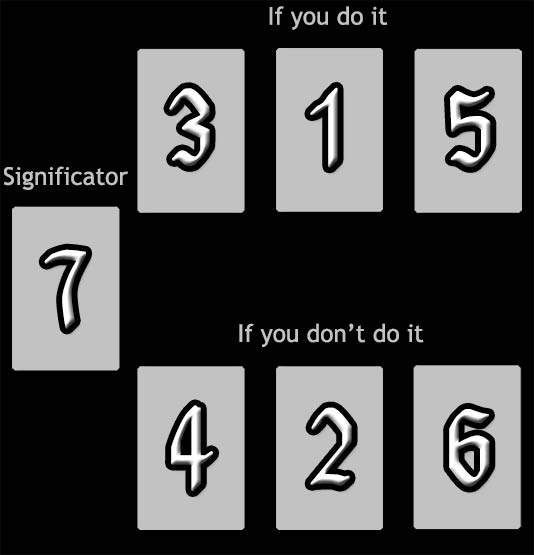 Difficulty: Easy
This simple but highly useful layout calls for a question to be asked in this format:
"What happens if I do (X), and what happens if I do not do (X)?"
Please note that it should not be viewed as a decision between 2 different options, but about whether or not a single option should be exercised. A second option would call for a separate reading.
Card #7 is the significator, the overall theme of the query.
Cards #3, #1, & #5 represent the chronological sequence of events that occurs if you choose to do (X).
Cards #4, #2, & #6 represent the chronological sequence of events that unfolds if you choose NOT to do (X).
Your Decision Reading
The Significator

Five/Six
Outcome if you do it:

Four/Blank

One/Four

Blank/Blank
Outcome if you don't do it:

Three/Six

Blank/Six

Six/Six

Five/Six

A sign of good fortune, your plans will be fulfilled. There will be good news. However, other people's promises will bear no results. Trust your own feelings, thoughts and drives over those of the people around you. Only you are responsible for deciding the proper path for you, and right now advice from others may not be compatible with your plans.

Outcome if you do it:
Four/Blank

Remember that you will reap what you sew. Do not allow yourself to become greedy or totally self-absorbed. To do so will leave you isolated and unhappy, even if you had all the money in the world.

One/Four

Like inheriting a fortune, there is great prosperity, wealth, and well-being. This sign is as money falling from the sky directly into your hands. You have been steady in the long run, and your prospects for success are very bright. Friends will increase, and even enemies will fall under your control. If someone is ill, they will recover in time, the cause being that they have displeased a certain deity.

Blank/Blank

The Double Blank is perhaps the grandest of dominoes. This domino often symbolizes a major change. It is the domino of fate, destiny, providence, and karma. Several new paths will open for you, and you are spiritually and intellectually ready to take them on. However, if this domino is drawn in a single-domino reading, it simply means to ask the question again at a later time.

Outcome if you do not do it:

not1card

Allow your feelings and passions to guide you. Do not allow your emotions to take a back seat to your intellect at this time. Explore your deepest feelings about every aspect of your life and act to ease any lingering negativity. Peaceful activities and purification rituals are beneficial. Destructive works will not succeed.

Blank/Six

do3card

The sign of "The Stainless Sky" suggests that you should listen carefully to the spirits of the air. Your mind should be cleansed of impure thoughts. This sign also suggests that to retain friends or wealth, small offerings should be made. Generally this is an average sign, neither bad nor good.