Game Plan Layout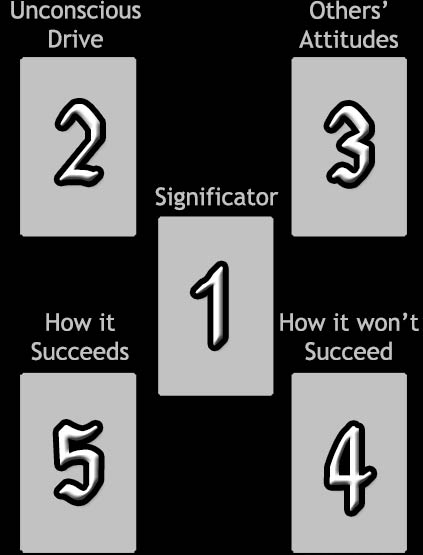 Difficulty: Easy
When you have a certain plan in mind, this simple 5-card layout presents a choice, hinting at what action or attitude should be taken for your plan to succeed, and what should be avoided in order to help your plan work out for the best.
The initial card is laid in the center of the layout, the significator. The following 4 cards are laid out clockwise around the significator.
In this layout, the second card shows what drives you, but also says you are not fully conscious of this, perhaps even completely unaware of it. It gives you a hint as to the reason that you strive for your goal.
The third card shows what others think of you and your goals. You may or may not be aware of this. Sometimes other people factor into your plans, and sometimes they don't.
The fourth card shows what you should not do. If things are permitted to go down this path, your plan will collapse.
The fifth card is a hint as to how to make your plan work out favorably. The idea that this card presents should be followed in order to make your plan a success. It is the differences between Cards #4 and #5 that should be noted, as the differences provide the clues you need.
Your Game Plan Reading
Unconscious Drive

Two/Four
External Influences

Five/Six
Significator

Two/Five
How it Will Succeed

Five/Four
How it Will Not Succeed

Six/Four

Two/Five

Spontaneous strength arises from within, like wind fueling the fire. Dreams and fantasies lead you to your correct path. Activities of power and destruction have great potential when used in accordance with a higher power. More offerings should be made to your spiritual protectors. Results will be good for what you wish to achieve, though works involving water will only be mediocre.

Two/Four

There will be no results, as a dried-up tree produces no fruit. This sign indictates that your reach may have exceeded your grasp. The constantly afflicted mind cannot achieve its desires, and therefore continues to suffer. Too many, or too lofty wishes will not be fulfilled. This sign also suggests performing rituals to ancestors and earth spirits to rectify disturbances.

Five/Six

A sign of good fortune, your plans will be fulfilled. There will be good news. However, other people's promises will bear no results. Trust your own feelings, thoughts and drives over those of the people around you. Only you are responsible for deciding the proper path for you, and right now advice from others may not be compatible with your plans.

Six/Four

Steady work will accomplish much, especially if performed quickly. It is difficult to predict beyond this, except that air activities such as sending letters or news are not favored. Fiery activities are preferred.

successcard

Matters of property, life, friends, and family are unfavorable. There are great obstacles that you need to focus on subverting. You may have been given a yellow article or a type of square object with earth spirits and local spirits that are harming you.