3 Bones Layout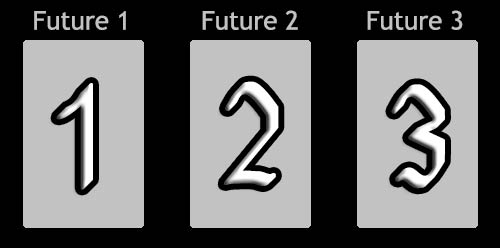 Difficulty: Very easy
This method of reading draws 3 tiles out of the mixed group of dominoes. They are flipped to answer the query in chronological order.
Your 3 Bones Reading
#1

Blank/Six
#2

Three/Four
#3

Five/Five

Bone #1

Blank/Six

You now have the opportunity for material gain. New ventures are on the horizon. You must make a decision which of these new ventures best suits your ambitions for the future.

Bone #2

Three/Four

The sign of the Golden Lotus or "the unploughed harvest" indicates success in your aims. It may take a little time, but things will get better and better if you address your spiritual self now. You may even want to consider mentoring someone; share your experience and open your heart to those who need guidance.

Bone #3

Five/Five

This sign indicates a growth in popularity. There may be fighting, but you will be victorious. Fame may yield fast wealth or fortune in smaller scattered pieces. If dispelling ghosts, you will be successful if you offer small gifts such as tea.