The Astrological Layout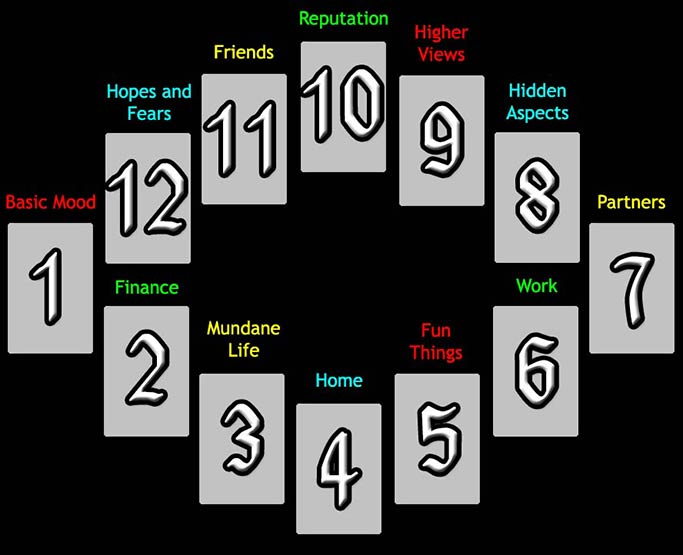 Difficulty: Complicated
The Astrological Tarot Layout is based on houses of astrology. This complicated layout takes several steps to understand.
The first step is to interpret the card for each individual position in the layout.
The second step involves further examination of the main axes. Positions 1 & 7 show the relationship theme, #1 representing you, #7 your partner. Positions 4 & 10 indicate motion. #4 shows where you are, and #10 shows what you are moving towards.
The third step involves breaking down the chart into triads according to their house elements.
Positions 1, 5, & 9 represent the Fire triad, which shows about temperment and personal development.
Positions 2, 6, & 10 represent the Earth triad, which is concerned with materialism, money, and work.
Positions 3, 7, & 11 represent the Air triad, which has to do with thoughts, ideas, and connections with other people.
Positions 4, 8, & 12 represent the Water triad, which is the realm of emotions, moods, intuition, and yearnings.
Further, you may connect other patterns and correlations between certain numbers. Certain numbers such as the set of 5, 7, & 8 often speak about a particular theme.
Your Astrological Reading
1: Basic Mood

Winter
Symbol: The Scholar

The Scholar represents gain through intellectual pursuits. The Scholar's mind is sharp and finds solutions to the most difficult problems.
2: Finance

West Wind
Symbol: Metal

The West Wind tile represents an obstacle that must be faced before you can make progress towards your goals. This obstacle may be anything, from a person to needing to find work.
3: Mundane Life

Bamboo 5
Symbol: Lotus Flower

The Lotus Flower tile represents birth or rebirth. On a spiritual level it may indicate you are about to reach new heights in your understanding of your place in the cosmos. Physically it may suggest a child is coming, or a new project is about to emerge. The Lotus Flower tile also speaks of regeneration, and may indicate a time of recovery from hardship; a new beginning.
4: Home

Wan 1
Symbol: Entering

The Entering tile indicates that barriers you now face will soon be lifted. Opportunity and success are ahead, but you must have the courage and energy to take advantage of them.
5: Fun Things

Plum Blossom
Symbol: Innocence

The Plum tile reflects renewal and viewing your world with fresh viewpoints. It is an inherently happy tile. The Plum tile also suggests inexperience, a trait you must not allow to make you an easy target.
6: Work

Wan 9
Symbol: Heavens

The Heaven tile suggests completion. This tile denotes a time for you to consider moving on to your next goal.
7: Partners

Circles 8
Symbol: White Tiger

The White Tiger tile is epitomizes masculinity in its purest form. The male represented by the White Tiger is brave and assertive. He will fight to protect what he feels is right.
8: Hidden Aspects

Autumn
Symbol: The Farmer

The Farmer represents rewards gained through hard work and faith in oneself. He harvests riches from the planting and nurturing of his crops.
9: Higher Views

Circles 9
Symbol: Unicorn

The Unicorn tile indicates a clear vision of the future and the ability to see people for who the really are. In rare cases the Unicorn tile may suggest a person with psychic powers.
10: Reputation

Bamboo 8
Symbol: Mushroom

The Mushroom tile represents eternal life and oddity. It gets these attributes from the fact that mushrooms in nature always seem to regenerate and often popup where they are unexpected. The notion of oddity is derived from the mushroom seemingly having the nature of a plant, but lacking leaves. The Mushroom tile foretells the coming of unexpected events that will have a lasting impact on you.
11: Friends

Bamboo 1
Symbol: Peacock

This is the first tile of the first suit in a Mahjong set. Overall, it represents success. However it also warns that success sometimes turns to arrogance, which can lead to loss of everything that has been gained. The Peacock tile also suggests a change in your life path is forthcoming.
12: Hopes and Fears
Circles 2
Symbol: Pine Tree

The Pine Tree tile represents strength and resolve. It often refers to a powerful, determined man. While powerful, this person is not violent, but very skilled in attaining his goals through diplomacy.