Decision Layout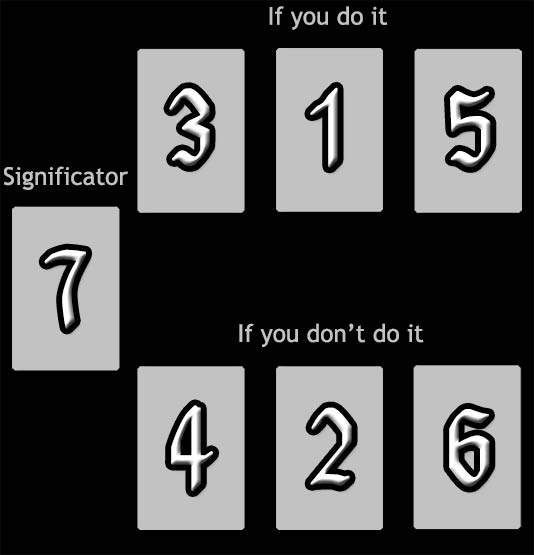 Difficulty: Easy
This simple but highly useful layout calls for a question to be asked in this format:
"What happens if I do (X), and what happens if I do not do (X)?"
Please note that it should not be viewed as a decision between 2 different options, but about whether or not a single option should be exercised. A second option would call for a separate reading.
Tile #7 is the significator, the overall theme of the query.
Tiles #3, #1, & #5 represent the chronological sequence of events that occurs if you choose to do (X).
Tiles #4, #2, & #6 represent the chronological sequence of events that unfolds if you choose NOT to do (X).
Your Decision Reading
The Significator

East Wind
Outcome if you do it:

Wan 4

Bamboo 4

Rooster
Outcome if you don't do it:

Bamboo 6

Bamboo

Wan 1

East Wind

Symbol: Wood

Generally the East Wind tile represents the querent. The tiles nearest the East tile in a reading have added importance.

Outcome if you do it:

Wan 4

Symbol: Lute

The Lute tile indicates a need for relaxation, a break from the stress of your everyday life. For people nearing the end of their career it may suggest that the time for them to retire has come.

Bamboo 4

Symbol: Carp

The Carp tile indicates the attainment of inner-peace, tranquility, and freedom from the pressures of everyday life. Contentment will be realized. The Carp's vibrant colors suggest a rich life. This may mean the coming of material and/or spiritual wealth.

Rooster

A proud and dominant animal who likes to strut his stuff. The rooster is the ultimate symbol of reliability and punctuality, as he never misses his morning duty of crowing at the dawn. Naturally this creature symbolizes new beginnings. Also he is a protector of the home domain.

Outcome if you do not do it:

not1card

Symbol: Water

The Water tile denotes a need for communication. A trip may be necessary to communicate properly. You may be called upon to present proof of ownership or that an event actually took place.

Bamboo

do3card

Symbol: Entering

The Entering tile indicates that barriers you now face will soon be lifted. Opportunity and success are ahead, but you must have the courage and energy to take advantage of them.