Game Plan Layout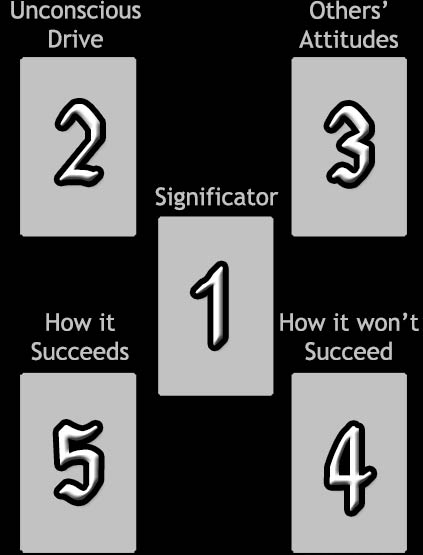 Difficulty: Easy
When you have a certain plan in mind, this simple 5-card layout presents a choice, hinting at what action or attitude should be taken for your plan to succeed, and what should be avoided in order to help your plan work out for the best.
The initial card is laid in the center of the layout, the significator. The following 4 cards are laid out clockwise around the significator.
In this layout, the second card shows what drives you, but also says you are not fully conscious of this, perhaps even completely unaware of it. It gives you a hint as to the reason that you strive for your goal.
The third card shows what others think of you and your goals. You may or may not be aware of this. Sometimes other people factor into your plans, and sometimes they don't.
The fourth card shows what you should not do. If things are permitted to go down this path, your plan will collapse.
The fifth card is a hint as to how to make your plan work out favorably. The idea that this card presents should be followed in order to make your plan a success. It is the differences between Tiles #4 and #5 that should be noted, as the differences provide the clues you need.
Your Game Plan Reading
Unconscious Drive

Bamboo 9
External Influences

Circles 8
Significator

Wan 8
How it Will Succeed

Circles 7
How it Will Not Succeed

Circles 4

Wan 8

Symbol: Knot

The Knot tile represents both bonding and severing. If the Sword tile (2 Wan) is in your reading then the time to sever ties with someone or something is at hand. Conversely if the Duck tile (2 Bamboo) is in your reading then there is bond that will strengthen. If both appear in your reading, then you have a relationship of some kind that is of undecided value.

Bamboo 9

Symbol: Willow Tree

The Willow Tree tile represents adaptability and survival in the face of harsh conditions. The Willow bends before the bitter winter winds, but does not break. The Willow tile suggests compromise. You must be willing to give some to get some.

Circles 8

Symbol: White Tiger

The White Tiger tile is epitomizes masculinity in its purest form. The male represented by the White Tiger is brave and assertive. He will fight to protect what he feels is right.

Circles 4

Symbol: Jade

The Jade tile indicates hard work resulting in spectacular results. Jade is thought to be an immortal stone to many. Therefore is also denotes longevity of relationships, life and principled values.

successcard

Symbol: Insect

The Insect tile indicates short-term gain through a short flurry of hectic work. It is important to realize that the gains the Insect tile offers are not lasting, or of long-term importance. At best they are a stopgap until more substantial goals come along.