Cross Layout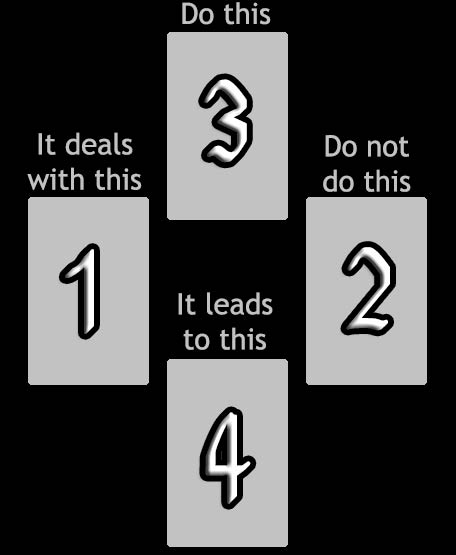 Difficulty: Easy
The Cross Layout is good for questions asking for advice. It can also be used to determine the meaning of a confusing rune from a previous reading, or for that matter, to shed light on other points of confusion as well.
In questions asking advice, this layout is self-explanatory. The main thing is to determine the difference between runes #2 and #3. #1 is the topic and #4 is the result.
In questions regarding confusion, such as: "What was the meaning of Rune (X) in the last layout?" the main thing is also to determine the difference between runes #2 and #3. In this case, Rune #2 will show what the rune was not referring to, and Rune #3 will show what the rune really meant. #1 is the topic and #4 represents the purpose it serves.
Your Cross Reading
DO This

Gebo
It Deals with This

Naudhiz
Do NOT Do This

Berkano
It Leads to This

Othala

It Deals with This

Naudhiz

Naudhiz warns about awareness of one's limitations. But resistance builds strength. Delays, restrictions, confusion, conflict, and the will to defeat them. Endurance, survival, determination. Patience and endurance is called for. Innovation, adaptation, and independence. The will power to direct fate.

An opportunity may not be what it seems. You may want to wait before making any important decisions. Tension in relationships is likely. If a risk has been taken, results are still forthcoming. Stress, and frustration are also associated with this sign.

Do NOT Do This

Berkano

Berkano is a rune of desire, fertility, birth, growth, regeneration, renewal, new beginnings, celebration, and liberation. A love affair or new birth. A prosperous partnership, team, enterprise, or venture.

Ill-dignification suggests something may be stunting the growth process. It may be necessary to examine your choices, and to go back and correct mistakes before moving forward again. There could be family problems or someone close to you that has you worried. Wreckless abandon, going wild. Loss of consciousness, deceit, sterility, stagnation.

DO This

Gebo

Gifts, in the spirit of both giving and receiving. Gebo is one of the runes of love, relating to partnerships and generosity. Matters related to exchanges. This rune can suggest an important favor and self-sacrifice as a reward in itself.

Ill-dignification can mean selfishness, loneliness, desperation, over-sacrifice, or bribery.
It Leads to This

Othala

This rune is concerned with home, land, and property. What is truly important to one. Group order, group prosperity. Land of birth, spiritual heritage, experience and fundamental values. Inheritance. Aid in journeys.

Othala relates to marriage, family, and things which are fixed and unchangeable, set in stone. On a spiritual level this is a reminder that your body is the temple and home of your soul, a source of security, increase, and abundance.

Ill-dignification can mean lack of respect, totalitarianism, slavery, poverty, homelessness. Bad karma, prejudice, injury. This is a warning to take care of what you have if you care about it.