Decision Layout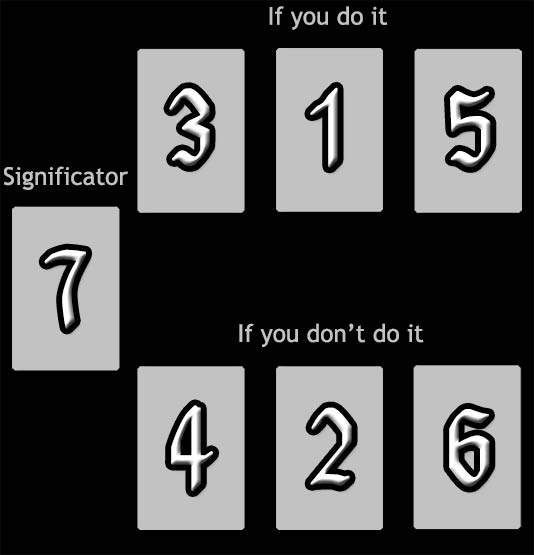 Difficulty: Easy
This simple but highly useful layout calls for a question to be asked in this format:
"What happens if I do (X), and what happens if I do not do (X)?"
Please note that it should not be viewed as a decision between 2 different options, but about whether or not a single option should be exercised. A second option would call for a separate reading.
Rune #7 is the significator, the overall theme of the query.
Runes #3, #1, & #5 represent the chronological sequence of events that occurs if you choose to do (X).
Runes #4, #2, & #6 represent the chronological sequence of events that unfolds if you choose NOT to do (X).
Your Decision Reading
The Significator

Mannaz
Outcome if you do it:

Wunjo

Gebo

Perthro
Outcome if you don't do it:

Tiwaz

Raidho

Uruz

Mannaz

Mankind, the Self; the individual or the human race. Your attitude toward others and their attitudes towards you. Friends and enemies, social order. This is the rune of help. Intelligence, forethought, creative ability, divine awareness.

Ill-dignification suggests a problem with authority, or possibly a conflict with people of a different culture. Mortality, blindness, self-deception, manipulation, cunning, slyness. A warning to be more careful of people, to pay closer attention to their motives. This rune may indicate a period of depression and suggests waiting or seeking consultation before making any important decisions.

Outcome if you do it:

Wunjo

An omen of prosperity on the horizon. Projects relating to creativity, art, or intuition are favored by this rune. A sign of comfort, pleasure, comradery, joy, and harmony.

Glory, ecstasy, and spiritual frenzy. If controlled, success and general increase of one's personal stock. If unloosed, over-enthusiastic zeal can lead to maniacal raving, going berzerk. Don't blow your top.

Gebo

Gifts, in the spirit of both giving and receiving. Gebo is one of the runes of love, relating to partnerships and generosity. Matters related to exchanges. This rune can suggest an important favor and self-sacrifice as a reward in itself.

Ill-dignification can mean selfishness, loneliness, desperation, over-sacrifice, or bribery.

Perthro

As the rune of fate and gaming, Perthro suggests that people are remembered for the games they play. Uncertainty, a mystery, secrets, hidden things, the unknown, gambling. Initiation, knowing one's purpose, knowledge of one's self. Evolutionary adaptation.

Pertaining to feminine things such as the mystery of fertility. Good times and companionship, fun and friends, a time of joy. Connected to prophetic dreams, old memories may be stirred resulting in personal revelations and clarity of thought.

Ill-dignification can mean: addiction, stagnation, loneliness, malaise, disappointment, disloyalty.

Outcome if you do not do it:

not1rune

Tiwaz is the warrior rune, and also one of the runes of love. It is concerned with self-knowledge, self-actualization, leadership, authority, rationality, honor, justice, and self-sacrifice. Opportunities should be seized. Success is indicated by this rune, particularly in competitive and legal matters.

Ill-dignification can mean writer's block, creative slump, over-analysis, over-sacrifice, injustice, imbalance. Conflict, strife, and losing in competitive matters. A lack of passion, miscommunication, even a separation. The male in a relationship may be involved for superficial reasons.

Raidho

do3rune

Self improvement is the ideal of this rune, which indicates the formation of a pattern of success. Responsibility and authority earned raise one's personal stock. New awarenesses make it possible to capitalize on new opportunities, and this rune's appearance suggests that opportunity is about to knock. This rune suggests a period of wonder and adventure before adaptation settles in. Beginner's luck, freedom, electricity, action, courage, strength, tenacity, understanding, experience. Masculine sexual potency.