Horse Shoe Layout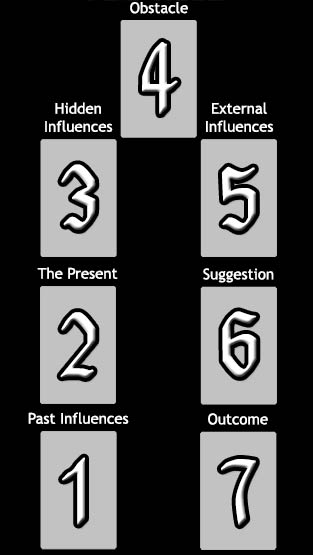 Difficulty: Easy
The Horse Shoe is an old classic tarot layout. It is more advanced than the 3-rune reading, yet simpler than most other layouts. It is a versatile method that can be used for most queries, though there are other layouts which would go into more depth. Like the simple Past, Present, and Future layout, it contains these runes in positions 1, 2, and 7, but also has 4 other runes that help the reader understand how to deal with the Future better. The runes are to be read as follows:
The Past: This rune represents past events that are affecting the question.
The Present: This rune represents the current state or immediately approaching influence.
Hidden Influences: Things that you may not be aware of, or barely be aware of.
Obstacles: This is the challenge. Obstacles might be avoided, or you may have to deal with them.
External Influences: Attitudes and thoughts about this situation from people around the querent.
Suggestions: Recommended course of action.
The Final Outcome: This rune represents what would happen if the suggestion is followed.
Your Horse Shoe Reading
Obstacle

Gebo
Hidden Influences

Wunjo
External Influences

Raidho
The Present

Laguz
Suggestion

Berkano
The Past

Elhaz
The Outcome

Sowilo

The Past Card represents past events that are affecting the question.

Elhaz

Elhaz is concerned with security, protection, and defense. Warding off of evil, shield, guardian. Connection with the gods, awakening, higher purpose, divine inspiration, channeling energy or spirits, spiritual enlightenment. This rune is connected to shamans and alternative medicine that are no longer popular in today's society. May indicate a need of retreat for introspection.

Follow your instincts. Elhaz warns that people may want to push you into doing something against your will. You must stand your ground to maintain the rewards of your success or to maintain a position earned.

Ill-dignification warns you to watch for people taking advantage of you. Be careful not to take on their burdens. Can mean hidden danger, deception, confusion, reversal of fortune, weakening of the divine link. Taboo, warning, peril, repugnance. A creative drought.

The Present Card represents the current state or immediately approaching influence.

Laguz

Laguz is related with water and the sea. Flow, a fertility source, the healing cycle of constant change renewal. This is a strong feminine rune of intuition that also relates to fertility.

Heightened imagination and psychic abilities. Dreams, fantasies, mysteries, the unknown, the occult. A breakthrough in awareness. Success in travel or acquisition, but presenting the possibility of loss.

Ill-dignification suggests you're taking things too hard. Prevent your emotions from running wild. This indicates of a period of confusion. Lack of creativity and feelings of being in a rut may lead to bad decisions and poor judgement. Circumstances may be beyond your control, so the trick is to adapt. Terror, circular logic, avoidance, cowardice, madness, obsession, despair, perversity, sickness, depression.
Hidden Influences - Things that you may not be aware of, or barely be aware of.

Wunjo

An omen of prosperity on the horizon. Projects relating to creativity, art, or intuition are favored by this rune. A sign of comfort, pleasure, comradery, joy, and harmony.

Glory, ecstasy, and spiritual frenzy. If controlled, success and general increase of one's personal stock. If unloosed, over-enthusiastic zeal can lead to maniacal raving, going berzerk. Don't blow your top.

Obstacle - This is the challenge.

Gebo

Gifts, in the spirit of both giving and receiving. Gebo is one of the runes of love, relating to partnerships and generosity. Matters related to exchanges. This rune can suggest an important favor and self-sacrifice as a reward in itself.

Ill-dignification can mean selfishness, loneliness, desperation, over-sacrifice, or bribery.

External Influences - Attitudes about this situation from people around the querent.

Raidho

A rune of action and movement, Raidho indicates that business is about to pick up. Travel and movement is suggested, both in immediate terms and those of overall lifestyle. An adventure, journey, vacation, relocation, personal evolution, or other conceivable change of place or perception. Mind expansion.

Knowing what you want and going for it. The personal in rhythm with the world, the dance of life. Raidho's connection to the number 2 is a reminder that there are 2 sides to every story. Be careful not to get side tracked into a disruptive misadventure that could set you back.

Suggestion - The recommended course of action. 

Berkano

Berkano is a rune of desire, fertility, birth, growth, regeneration, renewal, new beginnings, celebration, and liberation. A love affair or new birth. A prosperous partnership, team, enterprise, or venture.

Ill-dignification suggests something may be stunting the growth process. It may be necessary to examine your choices, and to go back and correct mistakes before moving forward again. There could be family problems or someone close to you that has you worried. Wreckless abandon, going wild. Loss of consciousness, deceit, sterility, stagnation.

The Outcome - What will happen if the suggestion is followed.

Sowilo

Sowilo is the sun; the life source of the world, the destroyer of ice. The life-force, health. A time when you will be able to grab the reigns of power to make positive changes in your life. It is a rune of fortune, health, clarity of thought, vitality, accomplishment, and victory. Contact between the higher self and the unconscious.

Success, glory, honor, victory, health, and success. Wholeness, fullness, raw power, primordial force, natural phenomenon, sword of fire, baptism by fire. This very powerful and generally positive rune sheds the light of a sunny day on a reading.

Ill-dignification suggests bad ideals, bad company, tainted victory, trickery. Excessive force, destruction, retribution, bad karma.