Relationship Layout #2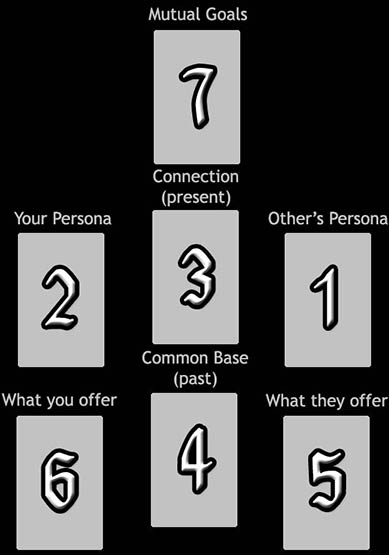 Difficulty: Easy
This relationship layout focuses on the common ground of the relationship, with 3 runes in the middle column showing the common ground. The middle column essentially shows the past, present, and future of the relationship.

Rune #4 shows the common base of the relationship, which may be thought of as the past events which have shaped their characters, bringing them together. Rune #3 represents the current connection that binds them together, the values they share. Rune #7 shows the common goals that would keep them together moving into the future.

The columns on either side show what each partner brings to the table. Remember, relationships need not be romantic, and they partners could even be groups rather than individuals, whatever you choose. In this layout, the other person is on the left hand side, and you, the querent on the right.

Runes #1 & 2 indicate the separate personalities of each member of the relationship. These runes form a sort of bridge with the runes beneath them, #5 & 6, which show the qualities that each partner offers the other person, and thus to the relationship as a whole.
Your Relationship #2 Reading
| | | |
| --- | --- | --- |
| | Mutual Goals | |
| Your Qualities | Connection (Present) | Others' Qualities |
| What You Bring | Common Base (Past) | What They Bring |
7: Mutual Goals

Raidho

A rune of action and movement, Raidho indicates that business is about to pick up. Travel and movement is suggested, both in immediate terms and those of overall lifestyle. An adventure, journey, vacation, relocation, personal evolution, or other conceivable change of place or perception. Mind expansion.

Knowing what you want and going for it. The personal in rhythm with the world, the dance of life. Raidho's connection to the number 2 is a reminder that there are 2 sides to every story. Be careful not to get side tracked into a disruptive misadventure that could set you back.
3: Connection

Berkano

Berkano is a rune of desire, fertility, birth, growth, regeneration, renewal, new beginnings, celebration, and liberation. A love affair or new birth. A prosperous partnership, team, enterprise, or venture.

Ill-dignification suggests something may be stunting the growth process. It may be necessary to examine your choices, and to go back and correct mistakes before moving forward again. There could be family problems or someone close to you that has you worried. Wreckless abandon, going wild. Loss of consciousness, deceit, sterility, stagnation.

4: Common Base

Uruz

Self improvement is the ideal of this rune, which indicates the formation of a pattern of success. Responsibility and authority earned raise one's personal stock. New awarenesses make it possible to capitalize on new opportunities, and this rune's appearance suggests that opportunity is about to knock. This rune suggests a period of wonder and adventure before adaptation settles in. Beginner's luck, freedom, electricity, action, courage, strength, tenacity, understanding, experience. Masculine sexual potency.

2: Your Qualities

Mannaz

Mankind, the Self; the individual or the human race. Your attitude toward others and their attitudes towards you. Friends and enemies, social order. This is the rune of help. Intelligence, forethought, creative ability, divine awareness.

Ill-dignification suggests a problem with authority, or possibly a conflict with people of a different culture. Mortality, blindness, self-deception, manipulation, cunning, slyness. A warning to be more careful of people, to pay closer attention to their motives. This rune may indicate a period of depression and suggests waiting or seeking consultation before making any important decisions.

1: Their Qualities

Laguz

Laguz is related with water and the sea. Flow, a fertility source, the healing cycle of constant change renewal. This is a strong feminine rune of intuition that also relates to fertility.

Heightened imagination and psychic abilities. Dreams, fantasies, mysteries, the unknown, the occult. A breakthrough in awareness. Success in travel or acquisition, but presenting the possibility of loss.

Ill-dignification suggests you're taking things too hard. Prevent your emotions from running wild. This indicates of a period of confusion. Lack of creativity and feelings of being in a rut may lead to bad decisions and poor judgement. Circumstances may be beyond your control, so the trick is to adapt. Terror, circular logic, avoidance, cowardice, madness, obsession, despair, perversity, sickness, depression.

6: What You Bring

Othala

5: What They Bring

Ingwaz

This is the rune of male health, fertility, creativity, gestation, and personal growth. Common sense, simple virtue, family, home. The spark of a new idea could start a fire. Often relates to a pivotal point, perhaps a rest stage, a time of relief, of healing and regeneration. A time when loose ends can be tied, freeing one to possibly move in a new direction. You must listen to yourself.

Ill-dignification can suggest impotence and circular movement. Production, labor, work.