Draw One Card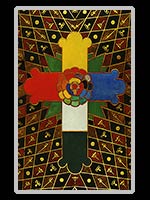 Difficulty: Very easy
The single card draw is best for times when you want to focus on one thing without any potential complications. It can be used for just about any question you can ask, including to draw a card of the day, week, or even your ultimate destiny. It can also be used in succession, as some readers like to pull one card at a time as a story unfolds. Some readers don't even like to use actual spreads, relying on this method alone.
Your Card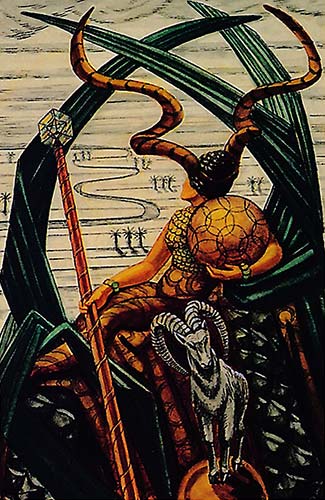 Queen of Disks
Capricorn

The Queen of Disks represents the watery part of Earth, the function of that element as Mother. She represents passivity, usually in its highest aspect. The Queen of Disks is throned upon the life of vegetation. She contemplates the background, where a calm river winds through a sandy desert to bring to it fertility. Oases are beginning to shew themselves amid the wastes. Before her stands a goat upon a sphere. There is here a reference to the dogma that the Great Work is fertility. She thus represents the ambition of matter to take part in the great work of Creation.

Persons signified by this card possess the finest of the quieter qualities. They are ambitious, but only in useful directions. They possess immense funds of affection, kindness, and greatness of heart. They are not intellectual, and not particularly intelligent; but instinct and intuition are more than adequate for their needs. These people are quiet, hard-working, practical, sensible, domesticated, often (in a reticent and unassuming fashion) lustful and even debauched. They are inclined to the abuse of alcohol and of drugs. It is as if they could only realize their essential happiness by getting outside themselves.