Path Spread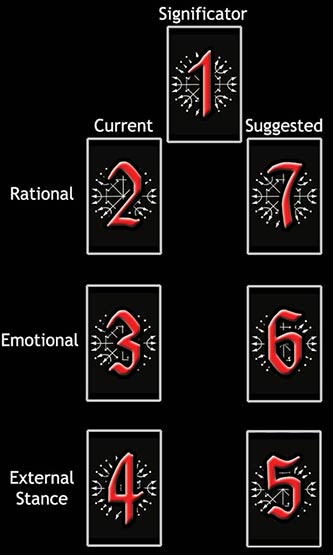 Difficulty: Easy
For the Path, the querent asks for suggestions on how to behave properly in order to achieve a desired result. The Current column shows how the querent has been acting, and the Suggestedcolumn suggests how the querent should act in order to achieve a certain goal. The chart-like spread uses the standard 3 levels: Rational, Emotional, and External Stance (how one projects one's self outwardly). When comparing the Current to Suggested cards, the most important thing is to notice the differences between the 2 cards. It is these differences which hint at the behaviors that you should think about changing.
Card #1 is the significator, the card which should reflect the nature of the query and/or the desired outcome.
Card #2 shows the way you are and have been thinking. Card #7 shows how you need to change the way you think in order to serve yourself better.
Card #3 tells you about your emotional attitude. Though it may seem difficult to manipulate one's own emotions, it can be done if you put your mind to it. For example, acting a certain way such as smiling intently for a few minutes will lead the emotions to follow. If you try this, as silly as the exercise seems, you will find that this evokes the emotion of happiness. For this reading, you should try to make yourself feel the way that Card #6 tells you.
External Stance means how you act outwardly, how you hope others see you. Card #4 tells you how you were acting, while #5 indicates how you should act outwardly, for other people's sake. It is the differences between these cards that hint at what behavior patterns should be altered.
Your Path Reading
Current

The Significator

10 of Spades

Suggested

Thought


3 of Spades

5 of Diamonds

Emotion


6 of Hearts

9 of Hearts

External Stance


Temperance

7 of Clubs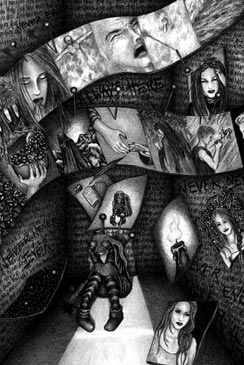 The Significator

10 of Spades

The feeling of being under intense and unrelenting mental pressure. Believing it is not possible to cope with what is happening, or that it is not possible to deal with any further or additional issues. The need to find an outlet for internal mental anguish so that the heaviness can be eased in some way. The possibility of unresolved past issues resurfacing, which may then give the impression they are haunting us in a way that makes escape seem impossible. Failing to see the light indicating there is a way out from your current mental state.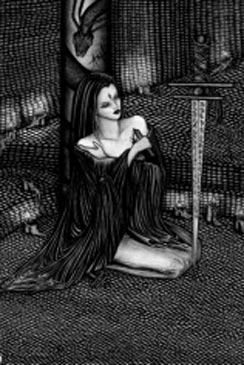 Current Thoughts

3 of Spades

Loss of faith or believe, a pessimistic outlook in general. Internalising of negative emotions. A numbing of the soul or spirit to the extent we also become numbed to the pain or hurt that comes from external sources. The need to use insight to identify the real cause of pain or upset, as opposed to misperceived sources. The urge to cut within in order to release harmful or negative emotions.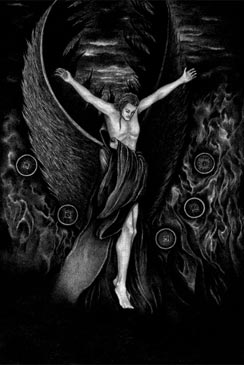 Suggested Thoughts

5 of Diamonds

Experiencing of hardship. Acknowledgement that suffering can be partnered with dignity, particularly if it is open to public scrutiny. Either being supported, or the offering support at a time of need. Being receptive to the energies of others, particularly if they are there to help or protect against external influences.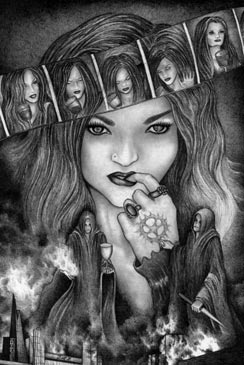 Current Emotions

6 of Hearts

Taking stock of yourself and where you have come from. This may give an indication of what is to come. Seeing yourself or others around you with eyes wide open, thus being aware of issues previously hidden. Being objective when viewing your previous actions, and by keeping emotion out of the equation it can lead to constructive enlightenment. Having no regret of previous actions, but acknowledgement of the fact they can prove to be valid life lessons for the future.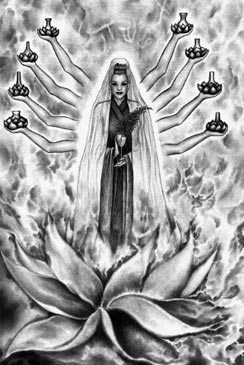 Suggested Emotions

9 of Hearts

Personal nurturing whereby the true spirit has the chance to emerge and subsequently flourish. Replacing of negative thoughts and emotions of the self with more positive ones. Understanding that love of the self is more important than the love that is offered to another. Having confidence in showing to the world and those around you your emotional self as well as your physical self.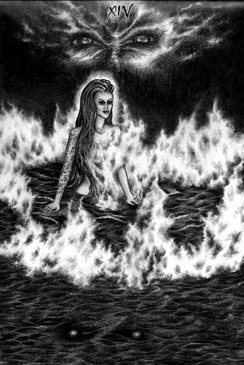 Current External Stance

Temperance

Temperance demonstrates the ability to maintain equilirium between opposing elements; she is the bridge between extremes.

The Seeker as Temperance suggests a path of moderation; seeking internal balance before one is ready to face external challenges. This card may indicate the need to resolve conflicting aspects within ourselves before we are able to restore peace into our environment.

As a situation, this card indicates a stage of mediating between opposing views; finding the middle ground to facilitate progress; restoring order in a disruptive environment. As such, we may need to explore options that allow amicable solutions to present themselves rather than allow one or the other extreme to take over.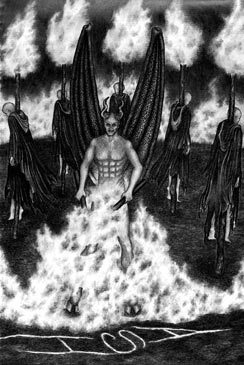 Suggested External Stance

7 of Clubs

Depending on which character is identified with it could either indicate overcoming adversary against all the odds, or being the victim of the actions of another. Resistance to the fate faced by others. Reluctance to face consequences of personal actions, particularly if they are at the expense of others around you. If the flame is a focal point it could show that consequences have been acknowledged, and action is being taken to purge the energy or memory of those deeds.