The Self-Actualization Pyramids Spread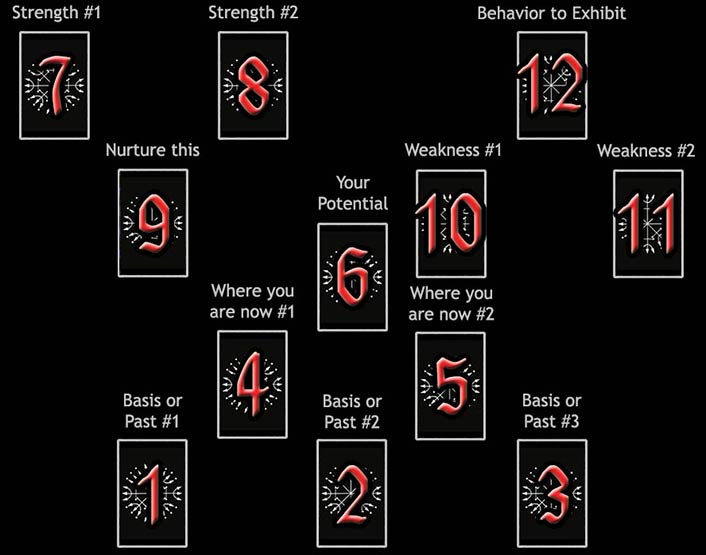 Difficulty: Complicated
Basically there is the main pyramid in the center, and two smaller pyramids on each side. One is inverted.
Positions 1 – 3 represent where you have come from, or what has made you/shaped you on the various levels. Can be from environment, upbringing, schooling etc. A look at the past, but with more objectivity than is usually given when using tarot cards.
Positions 4 – 5 represent "who you are now." May or may not make pleasant reading but hey, this is what this is about right?
Position 6 represents "who you could be." Again it might or might not look good, but you can learn from that and change who you are now accordingly. (This is a bit like how Scrooge did things in "A Christmas Carol")
Positions 7-8 are your strengths. The light you have which can be bought to the forefront. What carries you and should not be hidden or unacknowledged.
Position 9 represents what you should be giving to yourself or creating within.
Position 10 – 11 represent personal areas for development or weaknesses. Again might not make good reading but if you look at your strengths first you will be able to see a balance is there and you can choose to focus on one side or the other… your choice. This is where you could really see how your shadow side comes into play.
Position 12 represents what you should be offering externally, or what you can bring to your world or others who inhabit that world.
Your Self-Actualization Pyramids Reading
| | | | | | | |
| --- | --- | --- | --- | --- | --- | --- |
| Strength #1 | | Strength #2 | | | Exhibit | |
| | Nurture This | | Potential | Infirmity #1 | | Infirmity #2 |
| | | Now #1 | | Now #2 | | |
| | Base (past) #1 | | Base (past) #2 | | Base (past) #3 | |
1: Base #1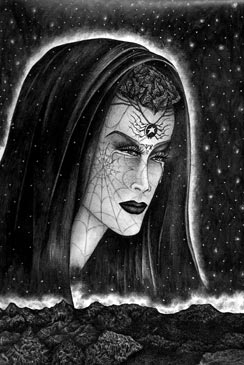 Queen of Diamonds
Nurturing of what you have at your disposal, understanding any neglect could lead to loss. Creation of balance between what is desired and what is needed. Being considerate of the creative processes involved in producing what we have, with some awareness of global implications. Gathering of resources (materially or financially with a sense of responsibility as opposed to ignorance. This could indicate a person who has developed awareness of the issue of cause and effect, understanding the true value or cost of what they have in their environment.
2: Base #2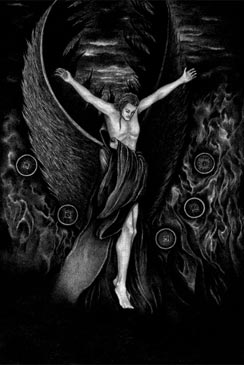 5 of Diamonds
Experiencing of hardship. Acknowledgement that suffering can be partnered with dignity, particularly if it is open to public scrutiny. Either being supported, or the offering support at a time of need. Being receptive to the energies of others, particularly if they are there to help or protect against external influences.
3: Base #3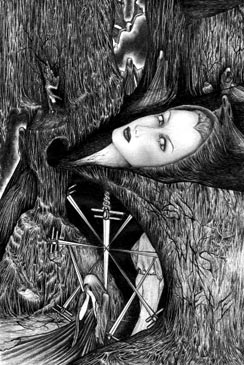 9 of Spades
Feeling of despair or of being trapped. The incorrect belief there is no movement possible within a current predicament. Current aims or objectives tantalisingly out of reach. Indications that a problem or obstacle needs to be examined from a different angle or viewpoint if a way forward is to be identified. Giving up too easily on a task believing there is no hope.
4: Where you are now #1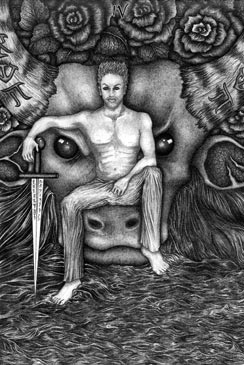 The Emperor
The Emperor card represents structure; the need for it or lack of it. It is about setting standards to adhere to, limitations and boundaries of rules of engagement and maintaining them. At a stage when one cannot identify such boundaries, The Emperor provides an idealized example until rigid adherence becomes a burden of expectations.

As the Seeker, this card represents the need to identify standards that are meaningful rather than those imposed by others. To discard old boundaries or limitations for new ones is a stage of self-regulation by which one identifies the principles to live by.

In a situation, this card suggests that stability may be achieved when a sound structure is in place.
5: Where you are now #2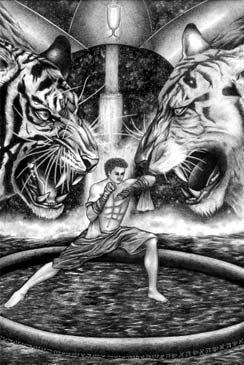 4 of Hearts
Possible conflict of emotion or thought. An imbalance of subconscious needs when compared to conscious desires. Requirement to stay calm and focused when faced with external disharmony or conflict. The need to understand when to get involved in restoring harmony and when to let the parties involved sort things out for themselves.
6: Your potential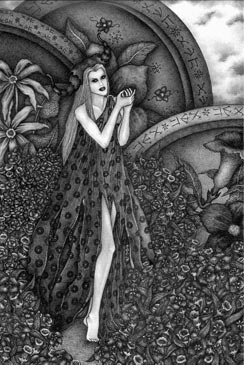 3 of Diamonds
Being grateful for what you have at your disposal, or offering thanks to those who have provided. Prioritising where to invest money or effort. Investing wisely in order to see long term gains or profits. Expecting everything to provided for us with little or no effort on our part to earn those provisions.
7: Strength #1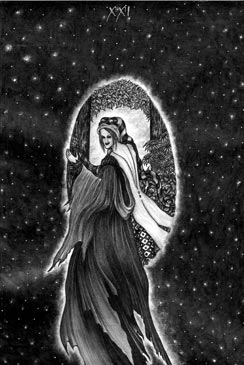 The World
From the Fool, we have come a full circle. What is there left to do but start over?
With a song in her heart and a prayer upon her lips, she steps out of the abyss into the World.
8: Strength #2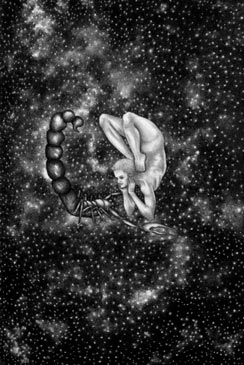 King of Spades
Standing your ground and being equal to the posturing of another. Not acquiescing or walking away when threatened or intimidated. Mutual respect offered and received when faced with the energy of another who would have otherwise assumed a superior role. Ability to bring a perceived threat down to a tolerable level through the use of clear communication. Acceptance of differences and similarities we have with others. This could indicate a person who will face any challenge head on and can back up their actions with appropriate words where necessary.
9: Nurture this
The Priestess
The Priestess card may suggest non-reaction. Whether caused by tension or inner turmoil, it is a stage where opposing influences may require time to find balance once again.

The seeker as The Priestess cannot yet dicipher the signs to understand them, thus it is necessary to watch, listen, learn and not react in order to make informed choices.

The situation as The Priestess may indicate a time to reflect on root causes of opposing influences that are contributing to tension in an environment.
10: Weakness #1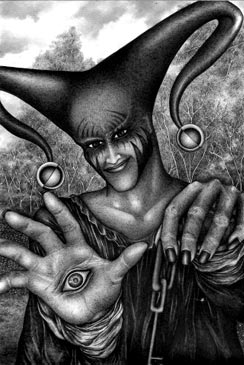 2 of Diamonds
Being met with choices or options although there is no clear indication as to which alternative will prove to be the most beneficial. Offering of a choice to another but without giving due guidance as to repercussions of each on offer. Insight may be the key to success. Being wary of what is on offer, questioning the motives behind what is being presented.
11: Weakness #2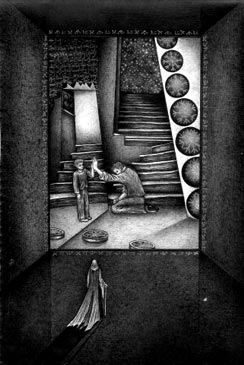 10 of Diamonds
If the main focus is the elderly gentleman there could be an indication of taking an objective view of previous actions or relationships. If the main focus is the kneeling figure, it could show there is a pull to hang onto childhood or anything represented by childhood. Alternatively it could show the turning of a back on material gains with an acknowledgement that friends and family are more important. If the main focal point is the child itself, it may indicate innocence and childhood are about to be left behind, but with no fear being shown in relation to the forthcoming changes.
12: Behavior to exhibit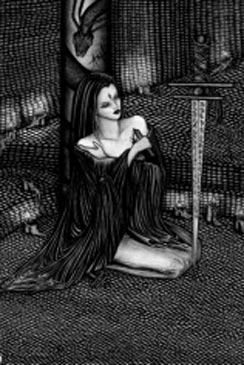 3 of Spades
Loss of faith or believe, a pessimistic outlook in general. Internalising of negative emotions. A numbing of the soul or spirit to the extent we also become numbed to the pain or hurt that comes from external sources. The need to use insight to identify the real cause of pain or upset, as opposed to misperceived sources. The urge to cut within in order to release harmful or negative emotions.