Relationship Spread #1
Difficulty: Easy
This spread is easy to read, like a convenient chart. In this spread, court cards generally indicate actual people with the same characteristics. Knights (or corresponding Princes, but not Kings) and Queens are meant to represent actual men and women in this tarot spread. Look for patterns in the cards as always.
Card #1 is the overall significator of the relationship. The 2 columns on either side of the significator characterize each individual's role in the relationship. The relationship does not have to be romantic. In fact it could be a relationship between a person and a group, or even how 2 groups relate.
The top row, cards #7 & 2, shows the conscious thoughts of each person, or what they think about the relationship and likewise how they view their partner.
The middle row, cards #6 & 3, shows the way each individual feels about the other. Emotional awareness corresponds to a person's unconscious thoughts that run deep, effecting a person in ways he or she is not fully aware of.
The bottom row, cards #5 & 4, represents the way each person behaves, in other words the stance taken regarding the relationship. The way a person acts may be genuine, but sometimes people are phony and manipulative, so it is best to weigh this card against your partner's other cards to determine if they match up.
Your Relationship #1 Reading
You
Other Person
Thought

5 of Diamonds

2 of Hearts
Emotion

Page of Hearts
The Significator

The Star

5 of Spades
External Stance

Jack of Hearts

King of Hearts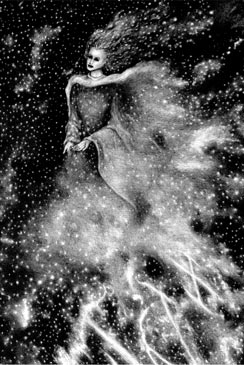 The Significator

The Star

The Star shows the process of formation or disintegration of a nebula. The light from this process takes millions of light years to reach our galaxy millions of years so it is not "the present" moment as we see it. The Star card in The Diary suggests that all tangible thing are subject to a cycle of creation that moves at its own pace and direction.

As the seeker, this card indicates that there are aspirations that are yet to be met or have already been fulfulled and it is time to either create the energy necessary for its formation; or allow it to disperse if the creation process is completed. Wishes are thoughts that are formed in the consciousness and it is up to the seeker to manifest it; or allow it to dissipate if it has already run its course.

As a situation, this card suggests a time of evaluating what is required to bring about the reality one wishes to create in one's future that is eventually to form a destiny. It may also suggest that dreams are the seed that requires one's effort to manifest into reality provided the steps are taken to ensure its growth. Without first identifying the situation one wishes to create, the possibility dissipates into unfulfilled aspirations.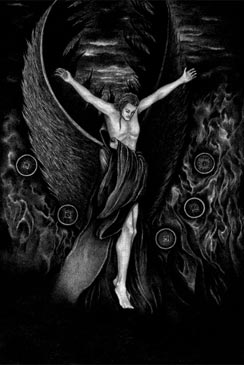 The Querent's Thoughts

5 of Diamonds

Experiencing of hardship. Acknowledgement that suffering can be partnered with dignity, particularly if it is open to public scrutiny. Either being supported, or the offering support at a time of need. Being receptive to the energies of others, particularly if they are there to help or protect against external influences.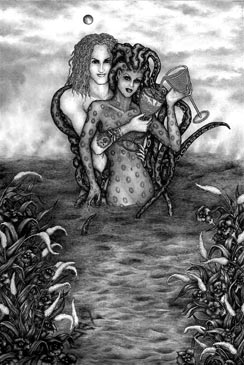 The Other Person's Thoughts

2 of Hearts

The unconditional sharing on a romantic or spiritual level with another like-minded being. Tuning in to the desires, thoughts and emotions of a person we resonate with whereby we feel we have become one being as opposed to two individuals. If the relationship is unhealthy or not balanced it can indicate one person is being clingy or manipulative of the emotions of their partner.
The Querent's Emotions

Page of Hearts

The awakening of new or unrealised emotions, often associated with maturation out of adolescence into adulthood. Following the calling of the heart, even though there is no real understanding of what is being done or why. The taking of those early and tentative steps towards romantic attraction.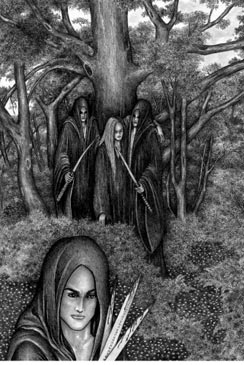 The Other Person's Emotions

5 of Spades

Dilemma of action or inaction. Knowing when to make a stance and fight, and when it is more advisable to wait awhile in the hope conditions become more favourable. A choice of getting involved in someone else's battle or putting personal needs first. The need to weigh up all odds or to evaluate all variables before deciding a course of action.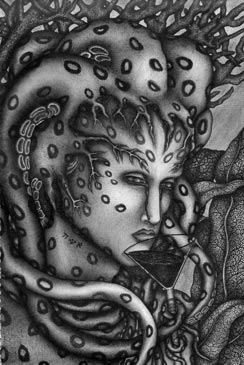 The Querent's External Stance

Jack of Hearts

A feeling of vulnerability, or belief we cannot cope with what life is about to throw at us. The release of emotion in either a positive or harmful way. The wearing of the heart on the sleeve. Expansive expression of emotions in balance with how thought processes are portrayed.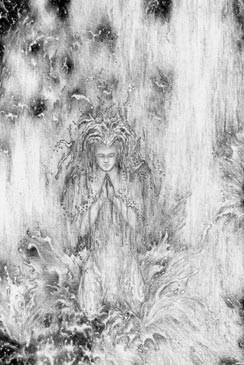 The Other Person's External Stance

King of Hearts

Retaining focus and control of emotions when faced with intense adversary. Being open to the fact it is okay to ask for help or support when it is required. Feeling of numbness on an emotional level. The creating of waves, yet at the same time maintaining a firm grasp on personal thoughts and/or emotions. This may indicate a man who is prone to emotional outbursts, but in the main does work hard at keeping a lid on things.