3 Card Spread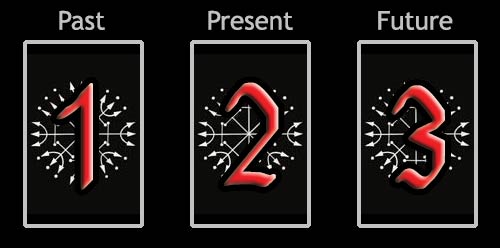 Difficulty: Very easy
This simplistic chronological spread can be used to shed light on the influences that are now behind you, current influences, and what is approaching in the near future. Not much explanation is necessary on this one.
Your 3 Card Reading
The Past

The Tower
The Present

7 of Clubs
The Future

The Emperor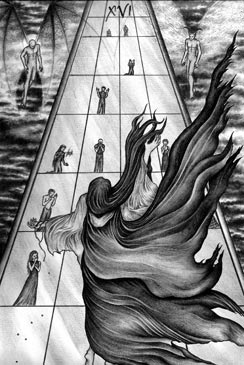 The Past

The Tower

Is it be better to hold on to a lie because it gives us hope;
or is it be better to know a truth that throws us off the edge of deception into the abyss below?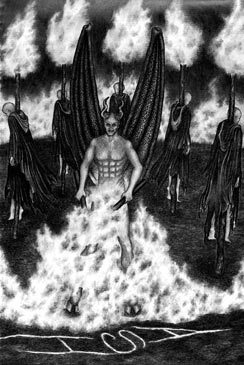 The Present

7 of Clubs

Depending on which character is identified with it could either indicate overcoming adversary against all the odds, or being the victim of the actions of another. Resistance to the fate faced by others. Reluctance to face consequences of personal actions, particularly if they are at the expense of others around you. If the flame is a focal point it could show that consequences have been acknowledged, and action is being taken to purge the energy or memory of those deeds.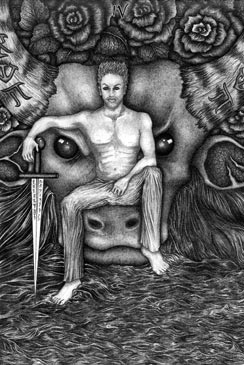 The Future

The Emperor

The Emperor card represents structure; the need for it or lack of it. It is about setting standards to adhere to, limitations and boundaries of rules of engagement and maintaining them. At a stage when one cannot identify such boundaries, The Emperor provides an idealized example until rigid adherence becomes a burden of expectations.

As the Seeker, this card represents the need to identify standards that are meaningful rather than those imposed by others. To discard old boundaries or limitations for new ones is a stage of self-regulation by which one identifies the principles to live by.

In a situation, this card suggests that stability may be achieved when a sound structure is in place.