3 Card Spread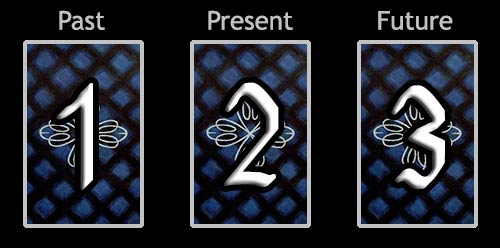 Difficulty: Very easy
This simplistic chronological spread can be used to shed light on the influences that are now behind you, current influences, and what is approaching in the near future. Not much explanation is necessary on this one.
Your 3 Card Reading
The Past

2 of Coins
The Present

The Star
The Future

Ace of Cups
The Past

2 of Coins

The picture is based on a classical presentation. The alternation is portrayed by the changing of the green and yellow colours and in addition through the movement the snake makes around the two pentacles, fashioned in the circle of colours. This appeals to a repetition of experiences. The double loop relates to our entire path through life.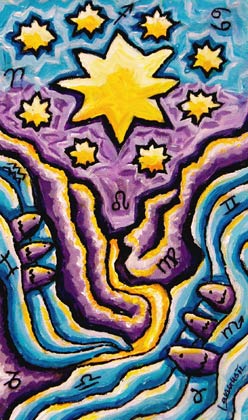 The Present

The Star

Nine stars are pointing towards a goal. The violet colour in the picture illustrates the spiritual atmosphere, the blue water and the fish symbolize clarity, flow of energy and liveliness, the path is well lit and seems to become easier and the sky is clearing to a light blue.

The signs of the Zodiac point towards methods, which are occupied with one's own future, and act as deputy for all oracle techniques.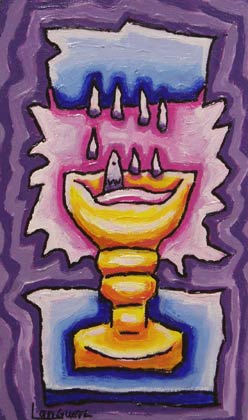 The Future

Ace of Cups

Water is formed from a cloud, due to condensation, and is dripping into a cup. Through this the relationship between water and its opposite energy air is portrayed. If we look carefully all the four elements are present here: water=Water, cup= Earth, cloud= Air and the liberated energy = Fire.