The Astrological Layout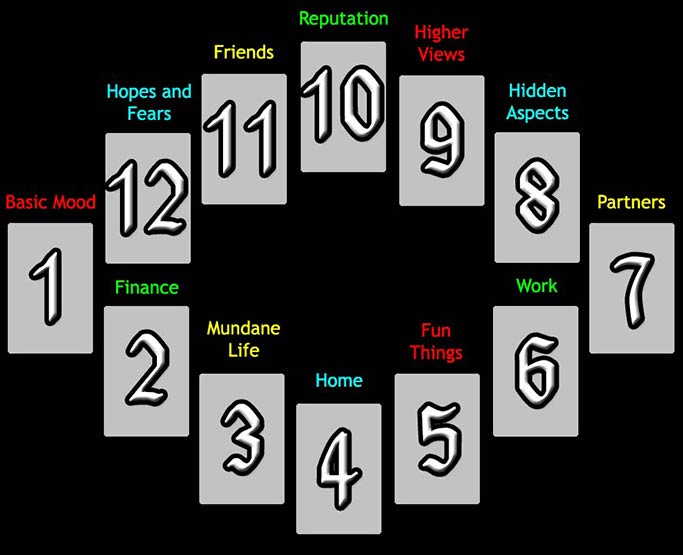 Difficulty: Complicated
The Astrological Tarot Layout is based on houses of astrology. This complicated layout takes several steps to understand.
The first step is to interpret the card for each individual position in the layout.
The second step involves further examination of the main axes. Positions 1 & 7 show the relationship theme, #1 representing you, #7 your partner. Positions 4 & 10 indicate motion. #4 shows where you are, and #10 shows what you are moving towards.
The third step involves breaking down the chart into triads according to their house elements.
Positions 1, 5, & 9 represent the Fire triad, which shows about temperment and personal development.
Positions 2, 6, & 10 represent the Earth triad, which is concerned with materialism, money, and work.
Positions 3, 7, & 11 represent the Air triad, which has to do with thoughts, ideas, and connections with other people.
Positions 4, 8, & 12 represent the Water triad, which is the realm of emotions, moods, intuition, and yearnings.
Further, you may connect other patterns and correlations between certain numbers. Certain numbers such as the set of 5, 7, & 8 often speak about a particular theme.
Your Astrological Reading
1: Basic Mood

Two/Five
Spontaneous strength arises from within, like wind fueling the fire. Dreams and fantasies lead you to your correct path. Activities of power and destruction have great potential when used in accordance with a higher power. More offerings should be made to your spiritual protectors. Results will be good for what you wish to achieve, though works involving water will only be mediocre.
2: Finance

Three/Four
The sign of the Golden Lotus or "the unploughed harvest" indicates success in your aims. It may take a little time, but things will get better and better if you address your spiritual self now. You may even want to consider mentoring someone; share your experience and open your heart to those who need guidance.
3: Mundane Life

Three/Six
Allow your feelings and passions to guide you. Do not allow your emotions to take a back seat to your intellect at this time. Explore your deepest feelings about every aspect of your life and act to ease any lingering negativity. Peaceful activities and purification rituals are beneficial. Destructive works will not succeed.
4: Home

Blank/Three
You have the opportunity before you to strengthen your spirit. It would be of great advantage to take this opportunity for spiritual growth, as these moments are fleeting and somewhat rare.
5: Fun Things

Four/One
The Treasury of Jewels is a sign of perfect prosperity, also known as "getting butter from milk or gems from the sea." Your wishes will be fulfilled, and prospects for the future are very bright.
6: Work

Three/Three
Wealth increases like a river feeding the ocean. This sign is especially good for works involving water, however marriage or rituals involving fire are not favored.
7: Partners

Five/Five
This sign indicates a growth in popularity. There may be fighting, but you will be victorious. Fame may yield fast wealth or fortune in smaller scattered pieces. If dispelling ghosts, you will be successful if you offer small gifts such as tea.
8: Hidden Aspects

Four/Four
This is a sign of great prosperity and wealth. Resources will be vast, and things will be very good. Rituals involving earth and wealth energies and construction of stupas, shrines, and the like are beneficial. Rituals of destruction are not beneficial, and there is a possibility of delay in travel or in switching any plans.
9: Higher Views

Blank/Six
You now have the opportunity for material gain. New ventures are on the horizon. You must make a decision which of these new ventures best suits your ambitions for the future.
10: Reputation

Four/Two
This is a bad omen of instability and obstruction. There is danger from enemies and evil spirits. A red article or triangular object you have acquired may be causing you harm. A person in the western direction may be responsible. Obstacles are blocking your success. Only evil activities have good prospects for success.
11: Friends

One/Three
Bathing in nectar, your happiness shall increase. Friends and wealth will build up substantially. Prospects are good for all things. Your agility will be impressive - quick like a slippery fish. It will be very beneficial should you seek visions in peaceful fire rituals.
12: Hopes and Fears

Two/Two
New unions and the strengthening of established unions are just around the corner. These unions may be secular and/or spiritual, and will prove successful. Be open to change, but do not abandon your values. Works of virtue and power are favored by this sign. Fire activities are highly favored and increase happiness much, but works involving water, earth, and fixed objects are not at all favorable, even bad.