Decision Layout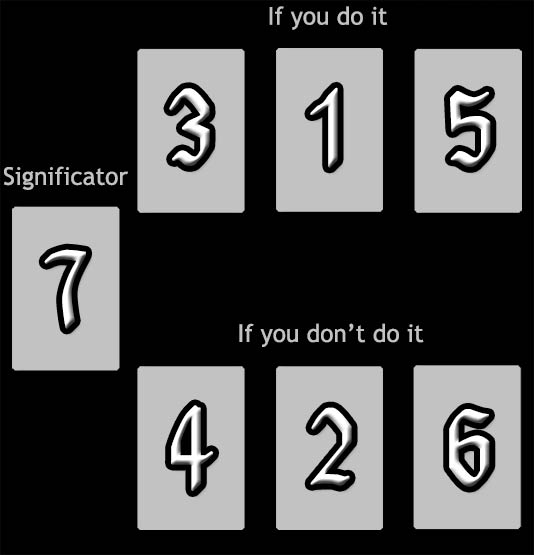 Difficulty: Easy
This simple but highly useful layout calls for a question to be asked in this format:
"What happens if I do (X), and what happens if I do not do (X)?"
Please note that it should not be viewed as a decision between 2 different options, but about whether or not a single option should be exercised. A second option would call for a separate reading.
Card #7 is the significator, the overall theme of the query.
Cards #3, #1, & #5 represent the chronological sequence of events that occurs if you choose to do (X).
Cards #4, #2, & #6 represent the chronological sequence of events that unfolds if you choose NOT to do (X).
Your Decision Reading
The Significator

Two/Two
Outcome if you do it:

Six/One

Two/Four

Blank/Blank
Outcome if you don't do it:

Six/Six

One/Two

Blank/Three

Two/Two

New unions and the strengthening of established unions are just around the corner. These unions may be secular and/or spiritual, and will prove successful. Be open to change, but do not abandon your values. Works of virtue and power are favored by this sign. Fire activities are highly favored and increase happiness much, but works involving water, earth, and fixed objects are not at all favorable, even bad.

Outcome if you do it:

Six/One

Your happiness shall increase as when a person hears good news. Studies in art, science, and spirit will yield good results. All activities are favored, particularly those that involve women.

Two/Four

There will be no results, as a dried-up tree produces no fruit. This sign indictates that your reach may have exceeded your grasp. The constantly afflicted mind cannot achieve its desires, and therefore continues to suffer. Too many, or too lofty wishes will not be fulfilled. This sign also suggests performing rituals to ancestors and earth spirits to rectify disturbances.

Blank/Blank

The Double Blank is perhaps the grandest of dominoes. This domino often symbolizes a major change. It is the domino of fate, destiny, providence, and karma. Several new paths will open for you, and you are spiritually and intellectually ready to take them on. However, if this domino is drawn in a single-domino reading, it simply means to ask the question again at a later time.

Outcome if you do not do it:

not1card

The sign of "The Stainless Sky" suggests that you should listen carefully to the spirits of the air. Your mind should be cleansed of impure thoughts. This sign also suggests that to retain friends or wealth, small offerings should be made. Generally this is an average sign, neither bad nor good.

One/Two

do3card

You have the opportunity before you to strengthen your spirit. It would be of great advantage to take this opportunity for spiritual growth, as these moments are fleeting and somewhat rare.