Game Plan Layout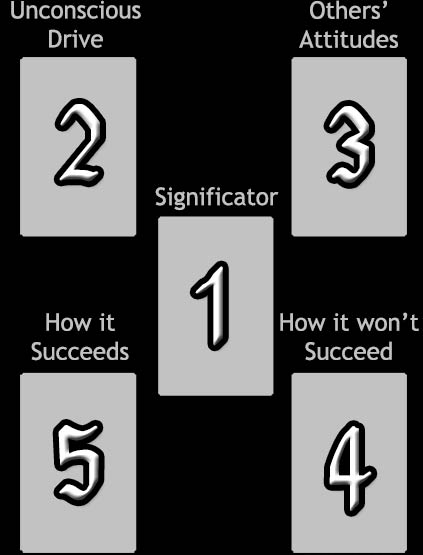 Difficulty: Easy
When you have a certain plan in mind, this simple 5-card layout presents a choice, hinting at what action or attitude should be taken for your plan to succeed, and what should be avoided in order to help your plan work out for the best.
The initial card is laid in the center of the layout, the significator. The following 4 cards are laid out clockwise around the significator.
In this layout, the second card shows what drives you, but also says you are not fully conscious of this, perhaps even completely unaware of it. It gives you a hint as to the reason that you strive for your goal.
The third card shows what others think of you and your goals. You may or may not be aware of this. Sometimes other people factor into your plans, and sometimes they don't.
The fourth card shows what you should not do. If things are permitted to go down this path, your plan will collapse.
The fifth card is a hint as to how to make your plan work out favorably. The idea that this card presents should be followed in order to make your plan a success. It is the differences between Cards #4 and #5 that should be noted, as the differences provide the clues you need.
Your Game Plan Reading
Unconscious Drive

One/Two
External Influences

Five/Five
Significator

Two/Three
How it Will Succeed

Two/Two
How it Will Not Succeed

Four/Three

Two/Three

It is best to postpone your efforts to achieve them later, as they will not be successful yet. There will be great obstacles and destruction if you press forward. This would appear to be a negative sign, however works of destruction will have much success. Now may be a good time to organize your plans and develop new strategies for managing the tasks before you.

One/Two

You will bear witness to an amazing sign. This is a sign of unification, good fortune, success, harmony, and happiness. You should continue on the same path you have been on. The prospects of this sign are not merely good, but excellent. Your life will be enriched.

Five/Five

This sign indicates a growth in popularity. There may be fighting, but you will be victorious. Fame may yield fast wealth or fortune in smaller scattered pieces. If dispelling ghosts, you will be successful if you offer small gifts such as tea.

Four/Three

Also known as "the wish-fulfilling cow," this sign indicates an increase in happiness. It may appear that an evil spirit has recently attacked you, but this is not the case. You should be content to know that this setback was necessary, as it is sometimes necessary to take a step back in order to take 2 steps forward.

successcard

New unions and the strengthening of established unions are just around the corner. These unions may be secular and/or spiritual, and will prove successful. Be open to change, but do not abandon your values. Works of virtue and power are favored by this sign. Fire activities are highly favored and increase happiness much, but works involving water, earth, and fixed objects are not at all favorable, even bad.