Past Present Future Layout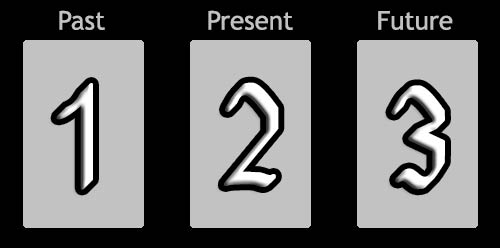 Difficulty: Very easy
This simplistic chronological layout can be used to shed light on the influences that are now behind you, current influences, and what is approaching in the near future. No explanation is necessary for this layout.
Your Past Present Future Reading
The Past

One/One
The Present

Blank/Blank
The Future

Four/Blank

The Past

One/One

The time is at hand to pursue new ventures. Your wishes will be accomplished, exceeding all expectations. The study of logic will bear tremendous fruit, as would diligent meditation upon your special deity or spirit guide. Partnerships are extremely well-favored. Opportunities may seem too good to be true, but hear them out fully before ruling anything out.

The Present

Blank/Blank

The Double Blank is perhaps the grandest of dominoes. This domino often symbolizes a major change. It is the domino of fate, destiny, providence, and karma. Several new paths will open for you, and you are spiritually and intellectually ready to take them on. However, if this domino is drawn in a single-domino reading, it simply means to ask the question again at a later time.

The Future

Four/Blank

Remember that you will reap what you sew. Do not allow yourself to become greedy or totally self-absorbed. To do so will leave you isolated and unhappy, even if you had all the money in the world.