The Astrological Layout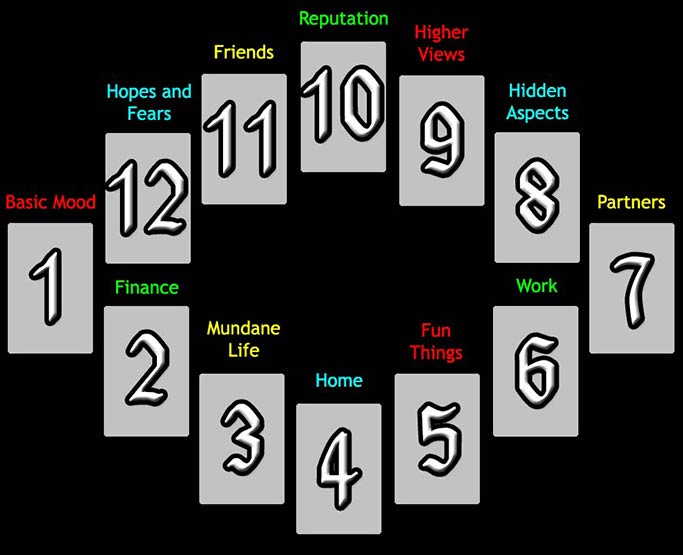 Difficulty: Complicated
The Astrological Tarot Layout is based on houses of astrology. This complicated layout takes several steps to understand.
The first step is to interpret the card for each individual position in the layout.
The second step involves further examination of the main axes. Positions 1 & 7 show the relationship theme, #1 representing you, #7 your partner. Positions 4 & 10 indicate motion. #4 shows where you are, and #10 shows what you are moving towards.
The third step involves breaking down the chart into triads according to their house elements.
Positions 1, 5, & 9 represent the Fire triad, which shows about temperment and personal development.
Positions 2, 6, & 10 represent the Earth triad, which is concerned with materialism, money, and work.
Positions 3, 7, & 11 represent the Air triad, which has to do with thoughts, ideas, and connections with other people.
Positions 4, 8, & 12 represent the Water triad, which is the realm of emotions, moods, intuition, and yearnings.
Further, you may connect other patterns and correlations between certain numbers. Certain numbers such as the set of 5, 7, & 8 often speak about a particular theme.
Your Astrological Reading
1: Basic Mood

Green Dragon
Symbol: Commence

The Green Dragon tile suggests the time has come for you to begin a new project, or to take your life in a new direction.
2: Finance

Spring
Symbol: The Fisherman

The tile of The Fisherman suggests success can be attained through the application of common sense and careful management of your time and relationships. The Fisherman is thorough and patient. He knows that while his efforts will be rewarded as long as he does not give up.
3: Mundane Life

North Wind
Symbol: Water

The North Wind tile indicates there will be difficult moments ahead. These can be canceled out if the South Wind Tile is in your reading as well.
4: Home

Circles 7
Symbol: Insect

The Insect tile indicates short-term gain through a short flurry of hectic work. It is important to realize that the gains the Insect tile offers are not lasting, or of long-term importance. At best they are a stopgap until more substantial goals come along.
5: Fun Things

Bamboo 4
Symbol: Carp

The Carp tile indicates the attainment of inner-peace, tranquility, and freedom from the pressures of everyday life. Contentment will be realized. The Carp's vibrant colors suggest a rich life. This may mean the coming of material and/or spiritual wealth.
6: Work

Bamboo 9
Symbol: Willow Tree

The Willow Tree tile represents adaptability and survival in the face of harsh conditions. The Willow bends before the bitter winter winds, but does not break. The Willow tile suggests compromise. You must be willing to give some to get some.
7: Partners

Worm
This creature lives off the dirt of the earth, collecting valuable nutrients that make it a symbol of energy and revitalization. Naturally the worm is an old Tibetan home remedy with tremendous healing properties. Aiding both yin and yang energies, as well as practically every other vital organ and body system, it represents a powerful cure-all - a soltion to a broad variety of problems.
8: Hidden Aspects

South Wind
Symbol: Fire

The South Wind tile is considered to be a very good sign in a reading. It almost ensures a satisfactory end to any problem.
9: Higher Views

Plum Blossom
Symbol: Innocence

The Plum tile reflects renewal and viewing your world with fresh viewpoints. It is an inherently happy tile. The Plum tile also suggests inexperience, a trait you must not allow to make you an easy target.
10: Reputation

Wan 7
Symbol: Seven Stars

The Seven Stars tile signifies creative growth and power. Creativity should be applied to the area this tile appears. This is a place to let your imagination run free. The Seven Stars tile also indicates hope for the future.
11: Friends

Rooster
A proud and dominant animal who likes to strut his stuff. The rooster is the ultimate symbol of reliability and punctuality, as he never misses his morning duty of crowing at the dawn. Naturally this creature symbolizes new beginnings. Also he is a protector of the home domain.
12: Hopes and Fears

Wan 5
Symbol: House

The House tile represents a building in which you spend much time. If your reading is positive it may well be that this building has the important function providing you with a stable environment in which you are comfortable. If the reading is negative it may represent a structure in which you are stressed and uncomfortable.