The Reversed Compass Layout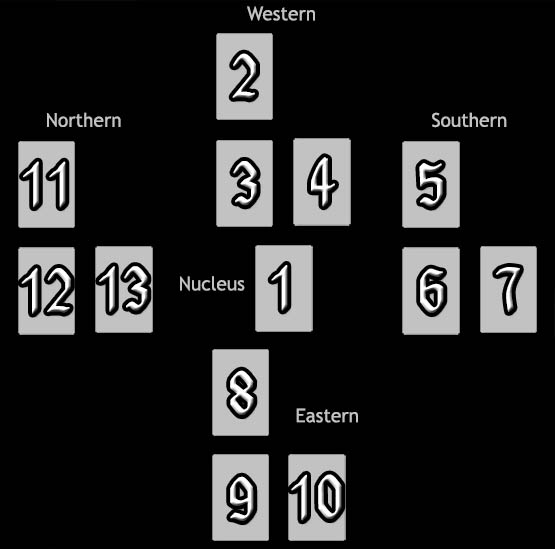 Difficulty: Hard
This reading sets the tiles in the celestial form instead of the terrestrial format that is used in navigational compasses. This is done to follow the traditions inherent in Chinese Philosophy. This complex reading is very flexible in that you may focus on a specific or general question, or no question at all when using it.
In the Reversed Compass Reading, each of the sets of tiles have a certain type of influence on the issue represented by The Nucleus. To interpret this reading properly you must separately relate each of the directional tile sets to The Nucleus.
Your Reversed Compass Reading


Western



Northern

Nucleus



Southern



Eastern



1: The Nucleus

Wan 9
Symbol: Heavens

The Heaven tile suggests completion. This tile denotes a time for you to consider moving on to your next goal.
The Western tiles explore obstacles and strife caused by the Nucleus.
2: Western Tile 1

Autumn
Symbol: The Farmer

The Farmer represents rewards gained through hard work and faith in oneself. He harvests riches from the planting and nurturing of his crops.
3: Western Tile 2

Circles 7
Symbol: Insect

The Insect tile indicates short-term gain through a short flurry of hectic work. It is important to realize that the gains the Insect tile offers are not lasting, or of long-term importance. At best they are a stopgap until more substantial goals come along.
4: Western Tile 3

Bamboo 1
Symbol: Peacock

This is the first tile of the first suit in a Mahjong set. Overall, it represents success. However it also warns that success sometimes turns to arrogance, which can lead to loss of everything that has been gained. The Peacock tile also suggests a change in your life path is forthcoming.
The Southern tiles represent current and near-future influences that are affecting the Nucleus.
5: Southern Tile 1

Circles 4
Symbol: Jade

The Jade tile indicates hard work resulting in spectacular results. Jade is thought to be an immortal stone to many. Therefore is also denotes longevity of relationships, life and principled values.
6: Southern Tile 2

Rooster
A proud and dominant animal who likes to strut his stuff. The rooster is the ultimate symbol of reliability and punctuality, as he never misses his morning duty of crowing at the dawn. Naturally this creature symbolizes new beginnings. Also he is a protector of the home domain.
7: Southern Tile 3

West Wind
Symbol: Metal

The West Wind tile represents an obstacle that must be faced before you can make progress towards your goals. This obstacle may be anything, from a person to needing to find work.
The Eastern tiles are a composite of the factors in your personality that are influencing the Nucleus.
8: Eastern Tile 1

Circles 1
Symbol: Pearl

The Pearl tile denotes the attainment of wealth and a life of luxury. The task will be to balance the spiritual self with the physical self.
9: Eastern Tile 2

Spring
Symbol: The Fisherman

The tile of The Fisherman suggests success can be attained through the application of common sense and careful management of your time and relationships. The Fisherman is thorough and patient. He knows that while his efforts will be rewarded as long as he does not give up.
10:: Eastern Tile 3

Wan 5
Symbol: House

The House tile represents a building in which you spend much time. If your reading is positive it may well be that this building has the important function providing you with a stable environment in which you are comfortable. If the reading is negative it may represent a structure in which you are stressed and uncomfortable.
The Northern tiles indicate the outcome of the issue that the Nucleus represents.
11: Northern Tile 1

Circles 2
Symbol: Pine Tree

The Pine Tree tile represents strength and resolve. It often refers to a powerful, determined man. While powerful, this person is not violent, but very skilled in attaining his goals through diplomacy.
12: Northern Tile 2

Worm
This creature lives off the dirt of the earth, collecting valuable nutrients that make it a symbol of energy and revitalization. Naturally the worm is an old Tibetan home remedy with tremendous healing properties. Aiding both yin and yang energies, as well as practically every other vital organ and body system, it represents a powerful cure-all - a soltion to a broad variety of problems.
13: Northern Tile 3

Plum Blossom
Symbol: Innocence

The Plum tile reflects renewal and viewing your world with fresh viewpoints. It is an inherently happy tile. The Plum tile also suggests inexperience, a trait you must not allow to make you an easy target.