Decision Layout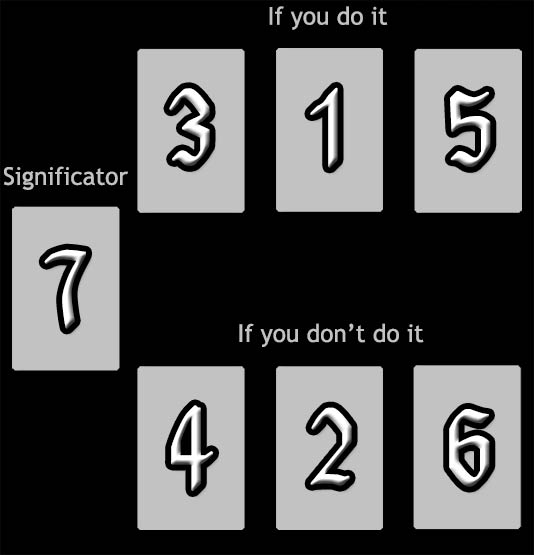 Difficulty: Easy
This simple but highly useful layout calls for a question to be asked in this format:
"What happens if I do (X), and what happens if I do not do (X)?"
Please note that it should not be viewed as a decision between 2 different options, but about whether or not a single option should be exercised. A second option would call for a separate reading.
Tile #7 is the significator, the overall theme of the query.
Tiles #3, #1, & #5 represent the chronological sequence of events that occurs if you choose to do (X).
Tiles #4, #2, & #6 represent the chronological sequence of events that unfolds if you choose NOT to do (X).
Your Decision Reading
The Significator

Green Dragon
Outcome if you do it:

Bamboo 8

Circles 6

Bamboo 2
Outcome if you don't do it:

Chrysanthemum

Circles 2

North Wind

Green Dragon

Symbol: Commence

The Green Dragon tile suggests the time has come for you to begin a new project, or to take your life in a new direction.

Outcome if you do it:

Bamboo 8

Symbol: Mushroom

The Mushroom tile represents eternal life and oddity. It gets these attributes from the fact that mushrooms in nature always seem to regenerate and often popup where they are unexpected. The notion of oddity is derived from the mushroom seemingly having the nature of a plant, but lacking leaves. The Mushroom tile foretells the coming of unexpected events that will have a lasting impact on you.

Circles 6

Symbol: Peach

The Peach tile represents the female spirit in its purest form. Where the Peach tile appears it is likely a woman or possibly a young girl will play an important role in outcome of your reading.

Bamboo 2

Symbol: Duck

The Duck tile symbolizes a long lasting relationship with the strength to overcome all obstacles. It suggests fidelity and trustworthiness. Regardless of the type of partnership in question, the second Bamboo tile indicates a strong, healthy relationship.

Outcome if you do not do it:

not1card

Symbol: Pleasure

The Chrysanthemum tile indicates you will enjoy a happy time filled with social activities and leisurely moments untainted by the demands of everyday life.

Circles 2

do3card

Symbol: Water

The North Wind tile indicates there will be difficult moments ahead. These can be canceled out if the South Wind Tile is in your reading as well.