Game Plan Layout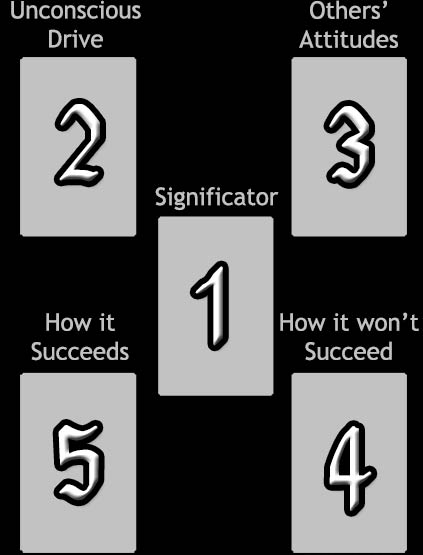 Difficulty: Easy
When you have a certain plan in mind, this simple 5-card layout presents a choice, hinting at what action or attitude should be taken for your plan to succeed, and what should be avoided in order to help your plan work out for the best.
The initial card is laid in the center of the layout, the significator. The following 4 cards are laid out clockwise around the significator.
In this layout, the second card shows what drives you, but also says you are not fully conscious of this, perhaps even completely unaware of it. It gives you a hint as to the reason that you strive for your goal.
The third card shows what others think of you and your goals. You may or may not be aware of this. Sometimes other people factor into your plans, and sometimes they don't.
The fourth card shows what you should not do. If things are permitted to go down this path, your plan will collapse.
The fifth card is a hint as to how to make your plan work out favorably. The idea that this card presents should be followed in order to make your plan a success. It is the differences between Tiles #4 and #5 that should be noted, as the differences provide the clues you need.
Your Game Plan Reading
Unconscious Drive

Bamboo 4
External Influences

Orchid
Significator

East Wind
How it Will Succeed

Circles 6
How it Will Not Succeed

Wan 8

East Wind

Symbol: Wood

Generally the East Wind tile represents the querent. The tiles nearest the East tile in a reading have added importance.

Bamboo 4

Symbol: Carp

The Carp tile indicates the attainment of inner-peace, tranquility, and freedom from the pressures of everyday life. Contentment will be realized. The Carp's vibrant colors suggest a rich life. This may mean the coming of material and/or spiritual wealth.

Orchid

Symbol: Refinement

The Orchid tile suggests there may be rare and refined experiences coming into your life. Enjoy them!

Wan 8

Symbol: Knot

The Knot tile represents both bonding and severing. If the Sword tile (2 Wan) is in your reading then the time to sever ties with someone or something is at hand. Conversely if the Duck tile (2 Bamboo) is in your reading then there is bond that will strengthen. If both appear in your reading, then you have a relationship of some kind that is of undecided value.

successcard

Symbol: Peach

The Peach tile represents the female spirit in its purest form. Where the Peach tile appears it is likely a woman or possibly a young girl will play an important role in outcome of your reading.