Relationship Layout #2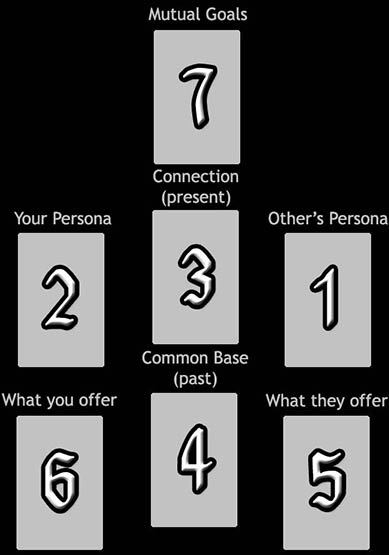 Difficulty: Easy
This relationship layout focuses on the common ground of the relationship, with 3 cards in the middle column showing the common ground. The middle column essentially shows the past, present, and future of the relationship.

Tile #4 shows the common base of the relationship, which may be thought of as the past events which have shaped their characters, bringing them together. Tile #3 represents the current connection that binds them together, the values they share. Tile #7 shows the common goals that would keep them together moving into the future.

The columns on either side show what each partner brings to the table. Remember, relationships need not be romantic, and they partners could even be groups rather than individuals, whatever you choose. In this layout, the other person is on the left hand side, and you, the querent on the right.

Tiles #1 & 2 indicate the separate personalities of each member of the relationship. These cards form a sort of bridge with the cards beneath them, #5 & 6, which show the qualities that each partner offers the other person, and thus to the relationship as a whole.
Your Relationship #2 Reading
| | | |
| --- | --- | --- |
| | Mutual Goals | |
| Your Qualities | Connection (Present) | Others' Qualities |
| What You Bring | Common Base (Past) | What They Bring |

7: Mutual Goals

Bamboo 4

Symbol: Carp

The Carp tile indicates the attainment of inner-peace, tranquility, and freedom from the pressures of everyday life. Contentment will be realized. The Carp's vibrant colors suggest a rich life. This may mean the coming of material and/or spiritual wealth.

3: Connection

Circles 6

Symbol: Peach

The Peach tile represents the female spirit in its purest form. Where the Peach tile appears it is likely a woman or possibly a young girl will play an important role in outcome of your reading.

4: Common Base

Summer

Symbol: The Woodcutter

The Woodcutter employs three of the 5 elements central to Chinese philosophy: Fire, Wood and Metal. He is ambitious and full of drive and energy. He represents gain and success through dedicated work.

2: Your Qualities

Orchid

Symbol: Refinement

The Orchid tile suggests there may be rare and refined experiences coming into your life. Enjoy them!

1: Their Qualities

Circles 5

Symbol: Dragon

The Dragon tile indicates good luck and large fortunes. Effort is not a prerequisite for the gain suggested by the Dragon tile. You cannot work towards acquiring the Dragon's gifts. They will come when they come, and will most likely be a surprise.

6: What You Bring

Circles 9

5: What They Bring

Wan 3

Symbol: Land

The Land tile suggests either a stable setting in which you are already thriving, or one that will exist in the near future. With stability your success and vision will grow.