The Three Dragons Layout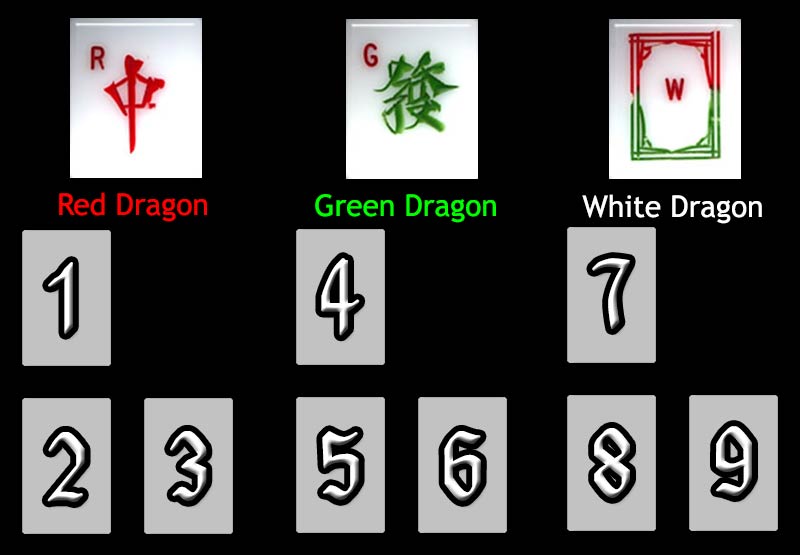 Difficulty: Moderate
In Chinese culture the Dragon is generally considered a sign of great luck and power. However in mahjong, the red, green, and white dragons represent three distinct influences that can affect your life. The Dragon Reading creates a relationship between sets of tiles to each Dragon, to explore how the 3 Dragons will influence you now and in the near future.
Your Three Dragons Reading

Red
Dragon


Green
Dragon


White
Dragon


















Red Dragon

Red #1

Bamboo 1
Symbol: Peacock

This is the first tile of the first suit in a Mahjong set. Overall, it represents success. However it also warns that success sometimes turns to arrogance, which can lead to loss of everything that has been gained. The Peacock tile also suggests a change in your life path is forthcoming.
Red #2

Winter
Symbol: The Scholar

The Scholar represents gain through intellectual pursuits. The Scholar's mind is sharp and finds solutions to the most difficult problems.
Red #3

Wan 2
Symbol: Sword

The Sword tile indicates a decision must be made before attainment of your goals can be reached.
Green Dragon

Green #1

Green Dragon
Symbol: Commence

The Green Dragon tile suggests the time has come for you to begin a new project, or to take your life in a new direction.
Green #2

Worm
This creature lives off the dirt of the earth, collecting valuable nutrients that make it a symbol of energy and revitalization. Naturally the worm is an old Tibetan home remedy with tremendous healing properties. Aiding both yin and yang energies, as well as practically every other vital organ and body system, it represents a powerful cure-all - a soltion to a broad variety of problems.
Green #3

Circles 6
Symbol: Peach

The Peach tile represents the female spirit in its purest form. Where the Peach tile appears it is likely a woman or possibly a young girl will play an important role in outcome of your reading.
White Dragon

White #1

East Wind
Symbol: Wood

Generally the East Wind tile represents the querent. The tiles nearest the East tile in a reading have added importance.
White #2

Plum Blossom
Symbol: Innocence

The Plum tile reflects renewal and viewing your world with fresh viewpoints. It is an inherently happy tile. The Plum tile also suggests inexperience, a trait you must not allow to make you an easy target.
White #3

Wan 3
Symbol: Land

The Land tile suggests either a stable setting in which you are already thriving, or one that will exist in the near future. With stability your success and vision will grow.