The Love Triangle Spread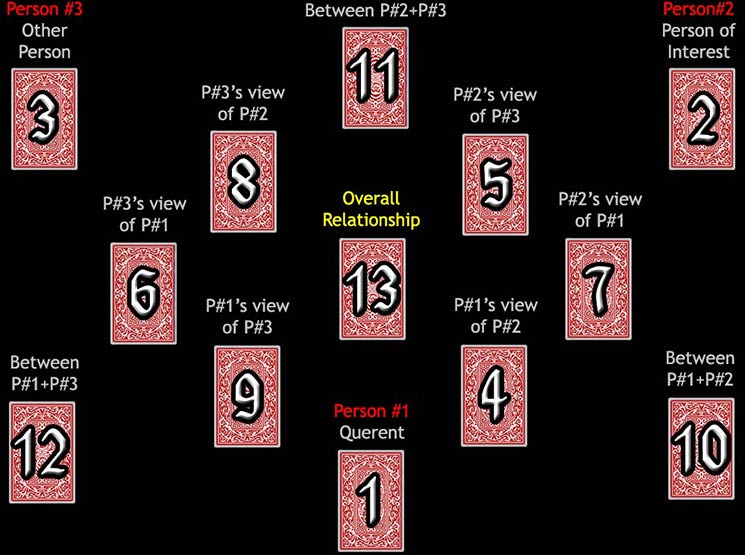 Difficulty: Somewhat Complicated
This spread can be used to determine the dynamics of the relationship between 3 people, whether or not romance is involved. This spread is drawn in the form of a hexagram, consisting of several large and small triangles. This spread is somewhat complicated, but only because of the complicated nature of this type of relationship.
The first step is to interpret the card for each individual position in the spread. Generally the querent asks about a relationship that he or she is involved with, but this does not have to be the case. Ordinarily the querent's representative card is #1, the querent's person of interest is #2, and the other person would be #3.
The second step fills in the downward triangle and involves further examination of the individuals through their views of the other people. Each person has 2 more cards showing the way they see and relate to the other members of the triangle. For example, Card #6 shows how Person #3 relates to Person #1, while Card #9 shows Person #1's attitude toward Person #3.
The next step completes the upward triangle and the hexagram, focusing on cards 10-13. It also completes the many smaller triangles and shows the potential for each relationship. The final card, #13 can be considered the significator of the reading, which shows the overall potential for this 3-way relationship.
Your Love Triangle Reading
| | | | | | | |
| --- | --- | --- | --- | --- | --- | --- |
| P#3 | | 3to2 | 2+3 | 2to3 | | P#2 |
| | 3to1 | | Overall | | 2to1 | |
| 1+3 | | 1to3 | | 1to2 | | 1+2 |
| | | | P#1 | | | |
| | | | | | | |
1: Person #1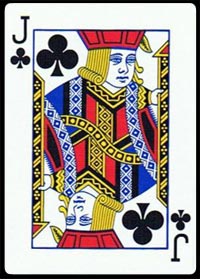 Jack of Clubs
Leo

A young man, just, noble, generous, impulsive, humorous, strong.
2: Person #2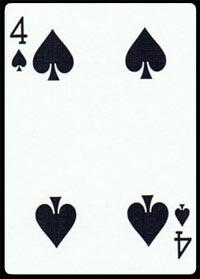 Four of Spades
"Truce"
Jupiter in Libra

Recovery from a period of trouble. An oasis. Authority in the realm of intellect. Establishment of dogma.

3: Person #3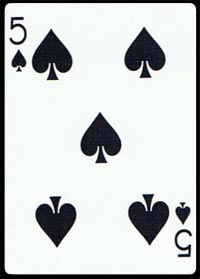 Five of Spades
"Defeat"
Venus in Aquarius

Weakness, loss, spite, malice, trouble, dishonor, anxiety. A driver of wedges.

4: Person #1's view of #2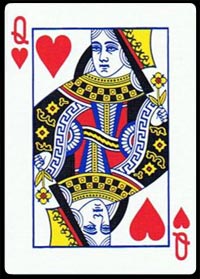 Queen of Hearts
Cancer

A dreamy, imaginative, tranquil, poetic, and extremely receptive woman. Generous, yet not overly hospitable. She is very dependent on the neighbor cards in determining dignification.
5: Person #2's view of #3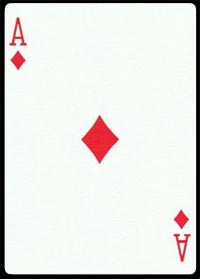 Ace of Diamonds
The Root of Earth

Materialistic concerns, contentment, earthly power and success.
6: Person #3's view of #1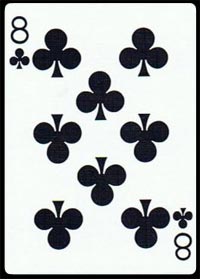 Eight of Clubs
"Swiftness"
Mercury in Saggitarius

Action, explosive energy, electricity, fast communication, gain of rapid speed, light, quickness.

7: Person #2's view of #1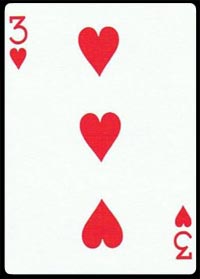 Three of Hearts
"Abundance"
Mercury in Cancer

Fulfilment, conclusion, plenty, fertility, hospitality, kindness, creation.

8: Person #3's view of #2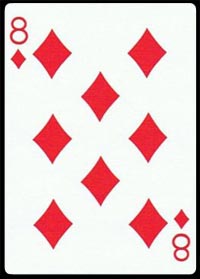 Eight of Diamonds
"Prudence"
Sun in Virgo

Industriousness, agriculture, building, construction, intelligence in material affairs.

9: Person #1's view of #3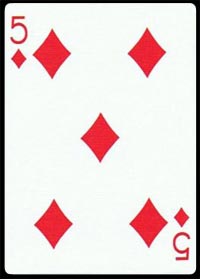 Five of Diamonds
"Worry"
Mercury in Taurus

Intense strain accompanying a period of inactivity. Anxiety, loss.

10: Overall relationship between persons #1 and #2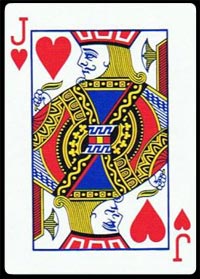 Jack of Hearts
Scorpio

A man who moves in shadows, who ambitiously lusts for great wisdom and power. His calm appearance masks an ocean of passion.
Ill-dignified: a merciless man of insatiable ambition.
11: Overall relationship between persons #2 and #3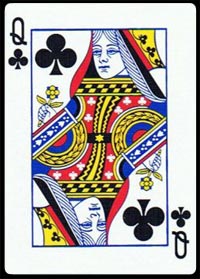 Queen of Clubs
Aries

A calm attractive woman. Strength relaxed. Persistent, adaptive, but intolerant of opposition.
12: Overall relationship between persons #1 and #3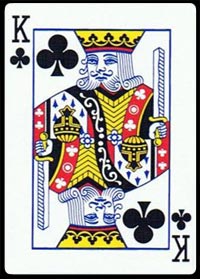 King of Clubs
Saggitarius

A man of action, generosity, pride, and impetuousness.
13: Overall 3-way Relationship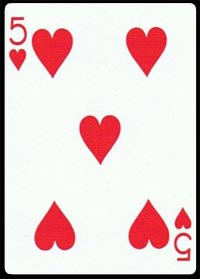 Five of Hearts
"Disappointment"
Mars in Scorpio

Disturbance ending pleasure. Grief, misfortune, sadness, regret, loss, treachery, bitterness, frustration, bad marriage, expectations unfulfilled.