Cross Layout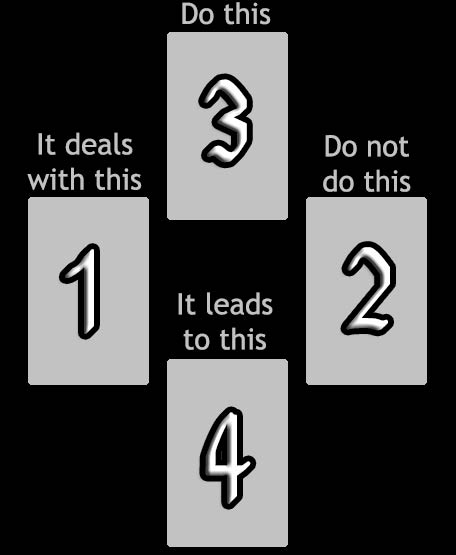 Difficulty: Easy
The Cross Layout is good for questions asking for advice. It can also be used to determine the meaning of a confusing rune from a previous reading, or for that matter, to shed light on other points of confusion as well.
In questions asking advice, this layout is self-explanatory. The main thing is to determine the difference between runes #2 and #3. #1 is the topic and #4 is the result.
In questions regarding confusion, such as: "What was the meaning of Rune (X) in the last layout?" the main thing is also to determine the difference between runes #2 and #3. In this case, Rune #2 will show what the rune was not referring to, and Rune #3 will show what the rune really meant. #1 is the topic and #4 represents the purpose it serves.
Your Cross Reading
DO This

Eihwaz
It Deals with This

Ehwaz
Do NOT Do This

Othala
It Leads to This

Isa

It Deals with This

Ehwaz

This rune typically signifies big changes - changes for the better. Transportation. May represent a horse, car, plane, boat or other vehicle. Slow but steady progress is indicated. Trust, loyalty, harmony, teamwork, an ideal partnership.

This rune also strengthens adjacent runes, adding clarification and solidarity to their meanings when in doubt. It is also connected with science and higher education. Communication reaches peak harmony.

Ill-dignification could mean a change is craved. Haste, disharmony, betrayal. Feeling trapped. Paranoia and superstition.

Do NOT Do This

Othala

This rune is concerned with home, land, and property. What is truly important to one. Group order, group prosperity. Land of birth, spiritual heritage, experience and fundamental values. Inheritance. Aid in journeys.

Othala relates to marriage, family, and things which are fixed and unchangeable, set in stone. On a spiritual level this is a reminder that your body is the temple and home of your soul, a source of security, increase, and abundance.

Ill-dignification can mean lack of respect, totalitarianism, slavery, poverty, homelessness. Bad karma, prejudice, injury. This is a warning to take care of what you have if you care about it.

DO This

Eihwaz

Eihwaz is a rune of progress. The desire for material gain provides motivation and a sense of purpose. It indicates a plan being formulated and moving forward. May indicate a person who can be trusted. Some keywords are: honesty, dependability, reliability, endurance, strength, defense, protection.

Ill-dignification can mean: confusion, delays, disturbance, destruction, dissatisfaction, weakness.

It Leads to This

Isa

A mental block presents a frustrating challenge. A standstill, when patience is a blessing, it is a good time search within one's self for clarity, a great opportunity for meditation. This rune reinforces runes around it.

Ill-dignification of this rune may mean ego-mania, self-absorption, blindness, and dissipation of willpower. Delusion, deceit, guile, stealth, ambush, plots, grievances, treachery, betrayal.