Game Plan Layout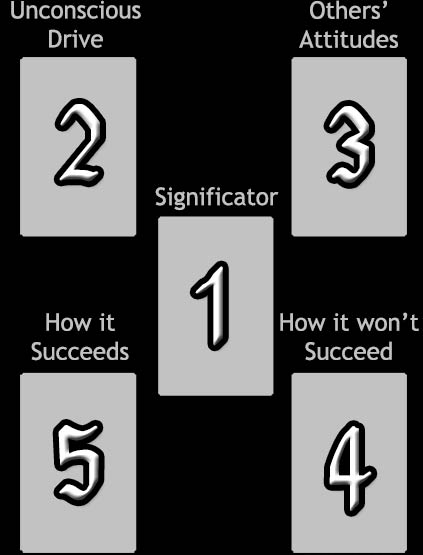 Difficulty: Easy
When you have a certain plan in mind, this simple 5-rune layout presents a choice, hinting at what action or attitude should be taken for your plan to succeed, and what should be avoided in order to help your plan work out for the best.
The initial rune is laid in the center of the layout, the significator. The following 4 runes are laid out clockwise around the significator.
In this layout, the second rune shows what drives you, but also says you are not fully conscious of this, perhaps even completely unaware of it. It gives you a hint as to the reason that you strive for your goal.
The third rune shows what others think of you and your goals. You may or may not be aware of this. Sometimes other people factor into your plans, and sometimes they don't.
The fourth rune shows what you should not do. If things are permitted to go down this path, your plan will collapse.
The fifth rune is a hint as to how to make your plan work out favorably. The idea that this rune presents should be followed in order to make your plan a success. It is the differences between Runes #4 and #5 that should be noted, as the differences provide the clues you need.
Your Game Plan Reading
Unconscious Drive

Hagalaz
External Influences

Raidho
Significator

Isa
How it Will Succeed

Berkano
How it Will Not Succeed

Sowilo

Isa

A mental block presents a frustrating challenge. A standstill, when patience is a blessing, it is a good time search within one's self for clarity, a great opportunity for meditation. This rune reinforces runes around it.

Ill-dignification of this rune may mean ego-mania, self-absorption, blindness, and dissipation of willpower. Delusion, deceit, guile, stealth, ambush, plots, grievances, treachery, betrayal.

Hagalaz

Sudden storm without warning, natural disaster, catastrophe, uncontrollable forces, destructive weather, especially hail or blizzards. Can be a sign of sudden disruption, chaos, and delays. Stagnation, pain, loss, suffering, hardship, sickness.

A trial by fire, temperance. Recovery from crisis leading to completion of a story. This rune is said to relate to the hidden desires of the unconcious mind, which may indicate the need for meditation and spiritual guidance.
Raidho

A rune of action and movement, Raidho indicates that business is about to pick up. Travel and movement is suggested, both in immediate terms and those of overall lifestyle. An adventure, journey, vacation, relocation, personal evolution, or other conceivable change of place or perception. Mind expansion.

Knowing what you want and going for it. The personal in rhythm with the world, the dance of life. Raidho's connection to the number 2 is a reminder that there are 2 sides to every story. Be careful not to get side tracked into a disruptive misadventure that could set you back.

Sowilo

Sowilo is the sun; the life source of the world, the destroyer of ice. The life-force, health. A time when you will be able to grab the reigns of power to make positive changes in your life. It is a rune of fortune, health, clarity of thought, vitality, accomplishment, and victory. Contact between the higher self and the unconscious.

Success, glory, honor, victory, health, and success. Wholeness, fullness, raw power, primordial force, natural phenomenon, sword of fire, baptism by fire. This very powerful and generally positive rune sheds the light of a sunny day on a reading.

Ill-dignification suggests bad ideals, bad company, tainted victory, trickery. Excessive force, destruction, retribution, bad karma.

successrune

Berkano is a rune of desire, fertility, birth, growth, regeneration, renewal, new beginnings, celebration, and liberation. A love affair or new birth. A prosperous partnership, team, enterprise, or venture.

Ill-dignification suggests something may be stunting the growth process. It may be necessary to examine your choices, and to go back and correct mistakes before moving forward again. There could be family problems or someone close to you that has you worried. Wreckless abandon, going wild. Loss of consciousness, deceit, sterility, stagnation.