Horse Shoe Layout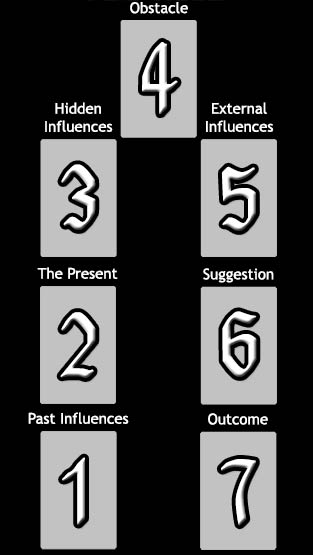 Difficulty: Easy
The Horse Shoe is an old classic tarot layout. It is more advanced than the 3-rune reading, yet simpler than most other layouts. It is a versatile method that can be used for most queries, though there are other layouts which would go into more depth. Like the simple Past, Present, and Future layout, it contains these runes in positions 1, 2, and 7, but also has 4 other runes that help the reader understand how to deal with the Future better. The runes are to be read as follows:
The Past: This rune represents past events that are affecting the question.
The Present: This rune represents the current state or immediately approaching influence.
Hidden Influences: Things that you may not be aware of, or barely be aware of.
Obstacles: This is the challenge. Obstacles might be avoided, or you may have to deal with them.
External Influences: Attitudes and thoughts about this situation from people around the querent.
Suggestions: Recommended course of action.
The Final Outcome: This rune represents what would happen if the suggestion is followed.
Your Horse Shoe Reading
Obstacle

Dagaz
Hidden Influences

Gebo
External Influences

Jera
The Present

Othala
Suggestion

Ehwaz
The Past

Berkano
The Outcome

Isa

The Past Card represents past events that are affecting the question.

Berkano

Berkano is a rune of desire, fertility, birth, growth, regeneration, renewal, new beginnings, celebration, and liberation. A love affair or new birth. A prosperous partnership, team, enterprise, or venture.

Ill-dignification suggests something may be stunting the growth process. It may be necessary to examine your choices, and to go back and correct mistakes before moving forward again. There could be family problems or someone close to you that has you worried. Wreckless abandon, going wild. Loss of consciousness, deceit, sterility, stagnation.

The Present Card represents the current state or immediately approaching influence.

Othala

This rune is concerned with home, land, and property. What is truly important to one. Group order, group prosperity. Land of birth, spiritual heritage, experience and fundamental values. Inheritance. Aid in journeys.

Othala relates to marriage, family, and things which are fixed and unchangeable, set in stone. On a spiritual level this is a reminder that your body is the temple and home of your soul, a source of security, increase, and abundance.

Ill-dignification can mean lack of respect, totalitarianism, slavery, poverty, homelessness. Bad karma, prejudice, injury. This is a warning to take care of what you have if you care about it.

Hidden Influences - Things that you may not be aware of, or barely be aware of.

Gebo

Gifts, in the spirit of both giving and receiving. Gebo is one of the runes of love, relating to partnerships and generosity. Matters related to exchanges. This rune can suggest an important favor and self-sacrifice as a reward in itself.

Ill-dignification can mean selfishness, loneliness, desperation, over-sacrifice, or bribery.

Obstacle - This is the challenge.

Dagaz

This is the rune of the day, daylight, and summer time. This rune heralds new perspective and new opportunity. Breakthrough in awareness, an awakening. Achievement of spiritual equilibrium by coming to the place where opposites meet.

A prosperous time to plan out or embark upon a new project. You recognize the power that is in your own hands. Ambitions and ideals run high. Smart work pays off. Self-reliance, independence, security, and self-assuredness.

Ill-dignification can mean coming to the end of the road, reaching the maximum limit, coming full circle, blindness, confusion, and despair.

External Influences - Attitudes about this situation from people around the querent.

Jera

Jera is a rune of harvest, abundance, reward, fortune, completion, and putting things in order. The fruits of earlier labors are ripe for the picking. Abundant peace and contentedness due to a nice surplus. The promise of success earned. The life cycle of eternal change which rules the universe.

Ill-dignification can mean a sudden setback or reversal of fortune. A major change, bad timing, conflict, poverty, or getting stuck in a repeating loop.

Suggestion - The recommended course of action. 

Ehwaz

This rune typically signifies big changes - changes for the better. Transportation. May represent a horse, car, plane, boat or other vehicle. Slow but steady progress is indicated. Trust, loyalty, harmony, teamwork, an ideal partnership.

This rune also strengthens adjacent runes, adding clarification and solidarity to their meanings when in doubt. It is also connected with science and higher education. Communication reaches peak harmony.

Ill-dignification could mean a change is craved. Haste, disharmony, betrayal. Feeling trapped. Paranoia and superstition.

The Outcome - What will happen if the suggestion is followed.

Isa

A mental block presents a frustrating challenge. A standstill, when patience is a blessing, it is a good time search within one's self for clarity, a great opportunity for meditation. This rune reinforces runes around it.

Ill-dignification of this rune may mean ego-mania, self-absorption, blindness, and dissipation of willpower. Delusion, deceit, guile, stealth, ambush, plots, grievances, treachery, betrayal.