The Love Triangle Layout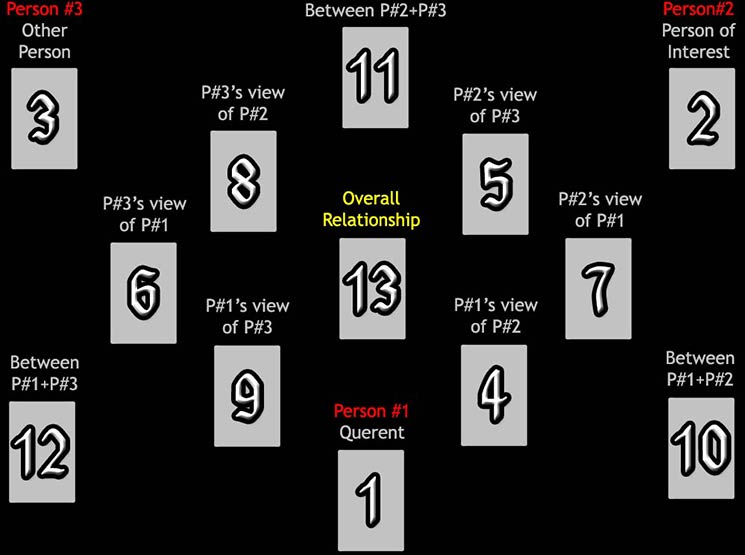 Difficulty: Somewhat Complicated
This layout can be used to determine the dynamics of the relationship between 3 people, whether or not romance is involved. This layout is drawn in the form of a hexagram, consisting of several large and small triangles. This layout is somewhat complicated, but only because of the complicated nature of this type of relationship.
The first step is to interpret the rune for each individual position in the layout. Generally the querent asks about a relationship that he or she is involved with, but this does not have to be the case. Ordinarily the querent's representative rune is #1, the querent's person of interest is #2, and the other person would be #3.
The second step fills in the downward triangle and involves further examination of the individuals through their views of the other people. Each person has 2 more runes showing the way they see and relate to the other members of the triangle. For example, Rune #6 shows how Person #3 relates to Person #1, while Rune #9 shows Person #1's attitude toward Person #3.
The next step completes the upward triangle and the hexagram, focusing on runes 10-13. It also completes the many smaller triangles and shows the potential for each relationship. The final rune, #13 can be considered the significator of the reading, which shows the overall potential for this 3-way relationship.
Your Love Triangle Reading
| | | | | | | |
| --- | --- | --- | --- | --- | --- | --- |
| P#3 | | 3to2 | 2+3 | 2to3 | | P#2 |
| | 3to1 | | Overall | | 2to1 | |
| 1+3 | | 1to3 | | 1to2 | | 1+2 |
| | | | P#1 | | | |
| | | | | | | |
1: Person #1

Ehwaz
This rune typically signifies big changes - changes for the better. Transportation. May represent a horse, car, plane, boat or other vehicle. Slow but steady progress is indicated. Trust, loyalty, harmony, teamwork, an ideal partnership.

This rune also strengthens adjacent runes, adding clarification and solidarity to their meanings when in doubt. It is also connected with science and higher education. Communication reaches peak harmony.

Ill-dignification could mean a change is craved. Haste, disharmony, betrayal. Feeling trapped. Paranoia and superstition.
2: Person #2

Eihwaz
Eihwaz is a rune of progress. The desire for material gain provides motivation and a sense of purpose. It indicates a plan being formulated and moving forward. May indicate a person who can be trusted. Some keywords are: honesty, dependability, reliability, endurance, strength, defense, protection.

Ill-dignification can mean: confusion, delays, disturbance, destruction, dissatisfaction, weakness.
3: Person #3

Berkano
Berkano is a rune of desire, fertility, birth, growth, regeneration, renewal, new beginnings, celebration, and liberation. A love affair or new birth. A prosperous partnership, team, enterprise, or venture.

Ill-dignification suggests something may be stunting the growth process. It may be necessary to examine your choices, and to go back and correct mistakes before moving forward again. There could be family problems or someone close to you that has you worried. Wreckless abandon, going wild. Loss of consciousness, deceit, sterility, stagnation.
4: Person #1's view of #2

Ingwaz
This is the rune of male health, fertility, creativity, gestation, and personal growth. Common sense, simple virtue, family, home. The spark of a new idea could start a fire. Often relates to a pivotal point, perhaps a rest stage, a time of relief, of healing and regeneration. A time when loose ends can be tied, freeing one to possibly move in a new direction. You must listen to yourself.

Ill-dignification can suggest impotence and circular movement. Production, labor, work.
5: Person #2's view of #3

Raidho
A rune of action and movement, Raidho indicates that business is about to pick up. Travel and movement is suggested, both in immediate terms and those of overall lifestyle. An adventure, journey, vacation, relocation, personal evolution, or other conceivable change of place or perception. Mind expansion.

Knowing what you want and going for it. The personal in rhythm with the world, the dance of life. Raidho's connection to the number 2 is a reminder that there are 2 sides to every story. Be careful not to get side tracked into a disruptive misadventure that could set you back.
6: Person #3's view of #1

Gebo
Gifts, in the spirit of both giving and receiving. Gebo is one of the runes of love, relating to partnerships and generosity. Matters related to exchanges. This rune can suggest an important favor and self-sacrifice as a reward in itself.

Ill-dignification can mean selfishness, loneliness, desperation, over-sacrifice, or bribery.
7: Person #2's view of #1

Fehu
Fehu is one of three mother stones. This rune deals with earning success in matters of material gain or the increase of knowledge. It reveals a impending influence of prosperity, abundance, fullness, and happiness. It can indicate climbing the social ladder. Other key words are: vitality, energy, power, mojo, foresight, fertility, creativity, motion.
8: Person #3's view of #2

Isa
A mental block presents a frustrating challenge. A standstill, when patience is a blessing, it is a good time search within one's self for clarity, a great opportunity for meditation. This rune reinforces runes around it.

Ill-dignification of this rune may mean ego-mania, self-absorption, blindness, and dissipation of willpower. Delusion, deceit, guile, stealth, ambush, plots, grievances, treachery, betrayal.
9: Person #1's view of #3

Ansuz
Ansuz signifies the protection of Odin, concerned with man's connection with the universe, spiritual messages, learning, communication, and the spoken word. Signs, inspiration, visions, and the symbolic power of words and names.

Acceptance of good advice yields blessings in health, harmony, and wisdom. Non-acceptance of good advice results in manipulation by others, misunderstanding, and delusion. Vanity and arrogance may deceive one's self. This rune may indicate that dreams are giving you important messages that you should take note of.
10: Overall relationship between persons #1 and #2

Wunjo
An omen of prosperity on the horizon. Projects relating to creativity, art, or intuition are favored by this rune. A sign of comfort, pleasure, comradery, joy, and harmony.

Glory, ecstasy, and spiritual frenzy. If controlled, success and general increase of one's personal stock. If unloosed, over-enthusiastic zeal can lead to maniacal raving, going berzerk. Don't blow your top.
11: Overall relationship between persons #2 and #3

Dagaz
This is the rune of the day, daylight, and summer time. This rune heralds new perspective and new opportunity. Breakthrough in awareness, an awakening. Achievement of spiritual equilibrium by coming to the place where opposites meet.

A prosperous time to plan out or embark upon a new project. You recognize the power that is in your own hands. Ambitions and ideals run high. Smart work pays off. Self-reliance, independence, security, and self-assuredness.

Ill-dignification can mean coming to the end of the road, reaching the maximum limit, coming full circle, blindness, confusion, and despair.
12: Overall relationship between persons #1 and #3

Othala
This rune is concerned with home, land, and property. What is truly important to one. Group order, group prosperity. Land of birth, spiritual heritage, experience and fundamental values. Inheritance. Aid in journeys.

Othala relates to marriage, family, and things which are fixed and unchangeable, set in stone. On a spiritual level this is a reminder that your body is the temple and home of your soul, a source of security, increase, and abundance.

Ill-dignification can mean lack of respect, totalitarianism, slavery, poverty, homelessness. Bad karma, prejudice, injury. This is a warning to take care of what you have if you care about it.
13: Overall 3-way Relationship

Uruz
Self improvement is the ideal of this rune, which indicates the formation of a pattern of success. Responsibility and authority earned raise one's personal stock. New awarenesses make it possible to capitalize on new opportunities, and this rune's appearance suggests that opportunity is about to knock. This rune suggests a period of wonder and adventure before adaptation settles in. Beginner's luck, freedom, electricity, action, courage, strength, tenacity, understanding, experience. Masculine sexual potency.