Draw One Card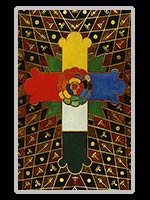 Difficulty: Very easy
The single card draw is best for times when you want to focus on one thing without any potential complications. It can be used for just about any question you can ask, including to draw a card of the day, week, or even your ultimate destiny. It can also be used in succession, as some readers like to pull one card at a time as a story unfolds. Some readers don't even like to use actual spreads, relying on this method alone.
Your Card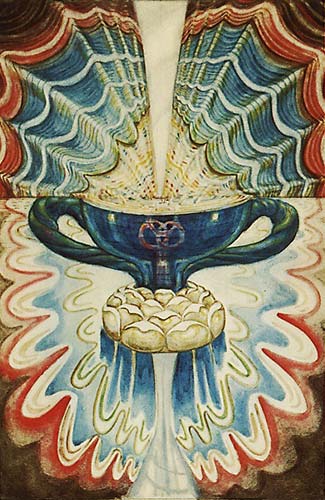 Ace of Cups
The Root of Water

This card represents the element of Water in its most secret and original form. It is the feminine complement of the Ace of Wands, and is derived from the Yoni and the Moon exactly as that is from the Lingam and the Sun. The third in the Hierarchy. This accord ingly represents the essential form of the Holy Grail. Upon the dark sea of Binah, the Great Mother, are Lotuses, two in one, which fill the cup with the Life-fluid, symbolically represented either as Water, as Blood, or as Wine, according to the selected purpose of the symbolism.

Above the Cup, descending upon it, is the Dove of the Holy Ghost, thus consecrating the element. At the base of the Cup is the Moon, for it is the virtue of this card to conceive and to produce the second form of its Nature.