3 Card Spread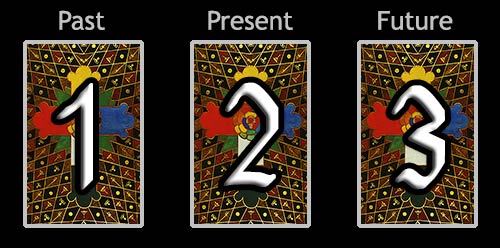 Difficulty: Very easy
This simplistic chronological spread can be used to shed light on the influences that are now behind you, current influences, and what is approaching in the near future. Not much explanation is necessary on this one.
Your 3 Card Reading
The Past

8 of Wands
The Present

9 of Cups
The Future

10 of Disks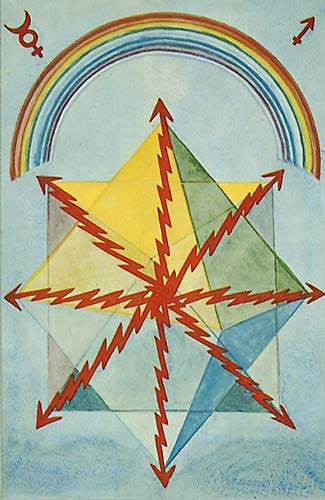 The Past

8 of Wands

Mercury in Saggitarius - Swiftness

The card refers to Hod, splendour, in the suit of Fire, whence it refers to the phenomena of speech, light, electricity. The pictorial representation of the card shows the Light-wands turned into electrical rays, sustaining or even constituting Matter by their vibrating energy. Above this restored universe shines the rainbow; the division of pure light, which deals with maxima, into the seven colours of the spectrum, which exhibit interplay and correlation.

This card, therefore, represents energy of high velocity, such as furnishes the master-key to modern mathematical physics.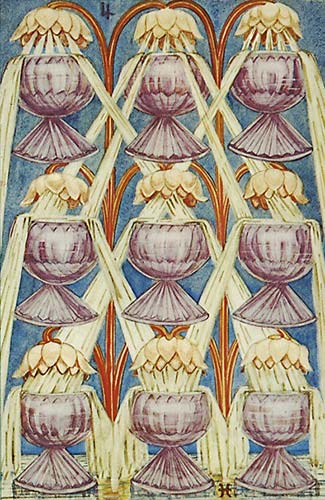 The Present

9 of Cups

Jupiter in Pisces - Happiness

The Number Nine, Yesod, in the suit of Water, restores the stability lost by the excursions of Netzach and Hod from the Middle Pillar. It is also the number of the Moon, thus strengthening the idea of Water.

In this card is the pageant of the culmination and perfection of the original force of Water. In the symbol are nine cups perfectly arranged in a square; all are filled and overflowing with Water. It is the most complete and most beneficient aspect of the force of Water.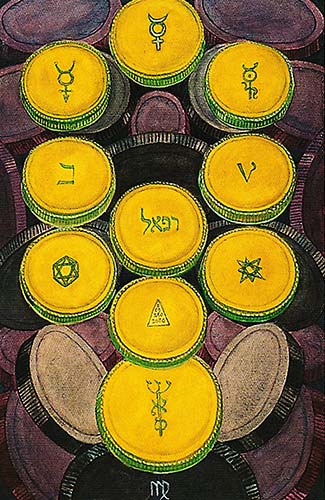 The Future

10 of Disks

Mercury in Virgo - Wealth

Mercury rules this card in Virgo; and this may imply that the acquired wealth, being inert, will be dissipated unless put to further use by devoting its power to objects other than mere accumulation. The disks, or (as they have now become) coins, are arranged on the Tree of Life, but the Tenth coin is much larger than the rest; the image indicates the futility of material gain.

These disks are inscribed with various symbols of mercurial character except that the coin in the place of Hod (Mercury) on the Tree is marked with the cipher of the Sun.