Comic Strip Spread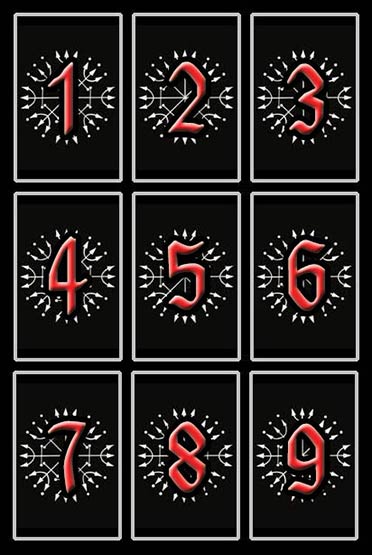 Difficulty: Simple
Note: This spread works best with decks like the Diary of a Broken Soul or Surrealist Tarot because they display scenes rather than pips and do not use reversals.
The Comic Strip Spread is an extremely simple 9-card chronological spread that looks like a page of a comic book. This method should be used to get a glimpse of the future as it would pan out naturally. You may also want to check your biorythm. The spread is easy to read as a story, just like a comic book.
The main subject is apparent in the first card, while the story plays out through the following cards.
Pay particular attention to the cards and the relationships to their neighbors. Notice which directions the cards are facing, and how they interact.
Your Comic Strip Reading
| | | |
| --- | --- | --- |
| 10 of Spades | Ace of Hearts | 9 of Spades |
| The World | 3 of Clubs | The Moon |
| The Devil | King of Diamonds | Jack of Hearts |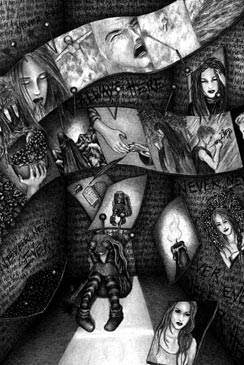 Card 1: 10 of Spades

The feeling of being under intense and unrelenting mental pressure. Believing it is not possible to cope with what is happening, or that it is not possible to deal with any further or additional issues. The need to find an outlet for internal mental anguish so that the heaviness can be eased in some way. The possibility of unresolved past issues resurfacing, which may then give the impression they are haunting us in a way that makes escape seem impossible. Failing to see the light indicating there is a way out from your current mental state.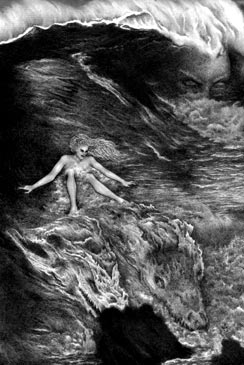 Card 2: Ace of Hearts
The possibility of extremes of emotion being experienced in equal measures. The real chance of being brought down to a ground level of being should we feel we have become over confident or egotistical. The start of an emotional roller coaster ride, possibly accompanied by a willingness to take risks even though it may cause us to crash harder as a result.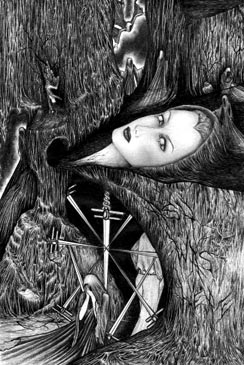 Card 3: 9 of Spades
Feeling of despair or of being trapped. The incorrect belief there is no movement possible within a current predicament. Current aims or objectives tantalisingly out of reach. Indications that a problem or obstacle needs to be examined from a different angle or viewpoint if a way forward is to be identified. Giving up too easily on a task believing there is no hope.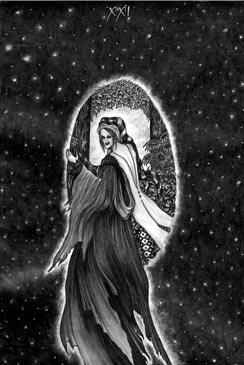 Card 4: The World
From the Fool, we have come a full circle. What is there left to do but start over?
With a song in her heart and a prayer upon her lips, she steps out of the abyss into the World.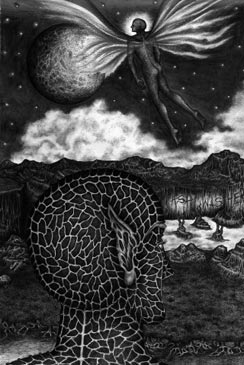 Card 5: 3 of Clubs
Leaving behind of constraints, or the use of our spiritual wings to soar higher. The confidence to stretch ourselves and reach higher than we thought was initially achievable. The keeping of our feet on the earth, where we focus on what is within reach as opposed to trying for something that is possibly beyond our means. Can also indicate not wanting to extend our abilities through fear of being met with failure.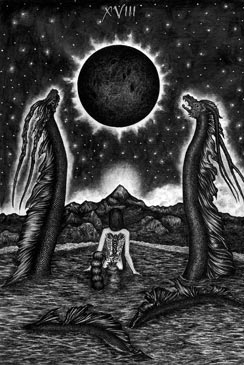 Card 6: The Moon
Jahanam is where dreams are woven; this is where cats learn to fly and birds carry swords;
this is where the Lady Moonshine hides the face of the Sun God
so that we may see the truths hidden in the dark and drive ourselves insane.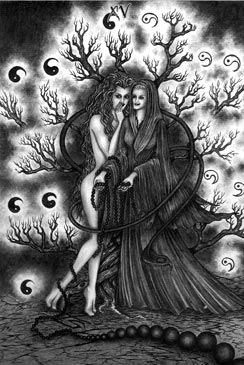 Card 7: The Devil
The Devil is a whisper that comes from the depths of our heart; for what is temptation but a weakness most exploited by our desire.

As the seeker, The Devil suggests an attachment that has become unhealthy; therefore, we may need to explore what it is we have bound ourselves to and what that object of our desire represents to us before we are able to free ourselves from it.

As a situation, The Devil card advices us to be aware of becoming too involved; to the extent we are unable to perceive the situation clearly. As such, we may need to ask ourselves if decisions made are based on instant gratification or out of necessity.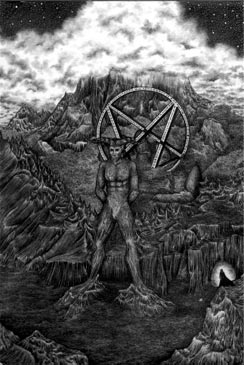 Card 8: King of Diamonds
Making do with what you have at hand. Growing or cultivating for yourself, lessening the burden on others to provide for you. Create a sense of discipline and order with everything being in its appropriate place. Keeping of a level head, or having your feet on the ground when considering what is important in life. This could indicate a person who is very good regulating their financial or material life, identifying with and working with any fluctuations around them.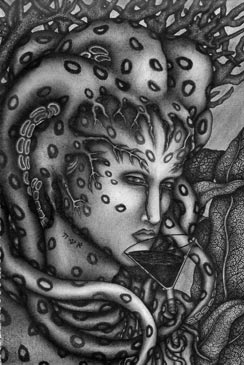 Card 9: Jack of Hearts
A feeling of vulnerability, or belief we cannot cope with what life is about to throw at us. The release of emotion in either a positive or harmful way. The wearing of the heart on the sleeve. Expansive expression of emotions in balance with how thought processes are portrayed.