3 Card Spread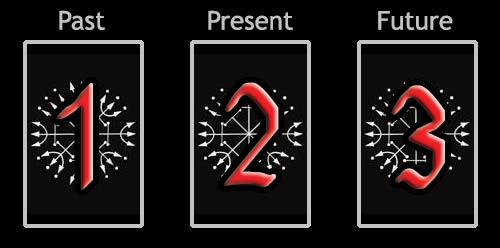 Difficulty: Very easy
This simplistic chronological spread can be used to shed light on the influences that are now behind you, current influences, and what is approaching in the near future. Not much explanation is necessary on this one.
Your 3 Card Reading
The Past

7 of Clubs
The Present

Temperance
The Future

Ace of Diamonds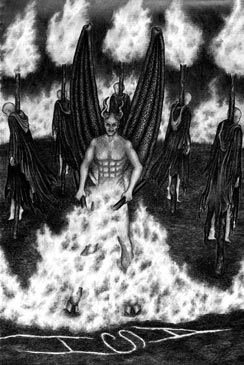 The Past

7 of Clubs

Depending on which character is identified with it could either indicate overcoming adversary against all the odds, or being the victim of the actions of another. Resistance to the fate faced by others. Reluctance to face consequences of personal actions, particularly if they are at the expense of others around you. If the flame is a focal point it could show that consequences have been acknowledged, and action is being taken to purge the energy or memory of those deeds.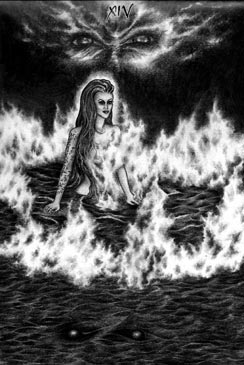 The Present

Temperance

Temperance demonstrates the ability to maintain equilirium between opposing elements; she is the bridge between extremes.

The Seeker as Temperance suggests a path of moderation; seeking internal balance before one is ready to face external challenges. This card may indicate the need to resolve conflicting aspects within ourselves before we are able to restore peace into our environment.

As a situation, this card indicates a stage of mediating between opposing views; finding the middle ground to facilitate progress; restoring order in a disruptive environment. As such, we may need to explore options that allow amicable solutions to present themselves rather than allow one or the other extreme to take over.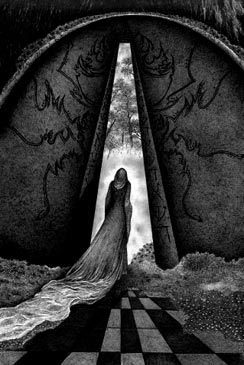 The Future

Ace of Diamonds

Indication that a path previously trodden will change in the near future. Either something will be opening up and becoming apparent, or it could indicate the curtain is about to come down, possibly leading to closure of sorts. Wondering if the grass is in fact greener on the other side. Consideration given to what you have right now against what you could have.