Comic Strip Spread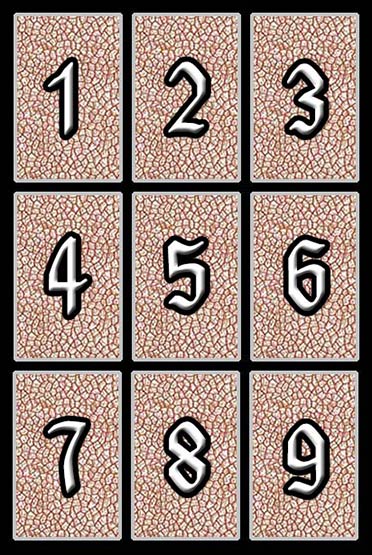 Difficulty: Simple
Note: This spread works best with decks like the Diary of a Broken Soul or Surrealist Tarot because they display scenes rather than pips and do not use reversals.
The Comic Strip Spread is an extremely simple 9-card chronological spread that looks like a page of a comic book. This method should be used to get a glimpse of the future as it would pan out naturally. You may also want to check your biorythm. The spread is easy to read as a story, just like a comic book.
The main subject is apparent in the first card, while the story plays out through the following cards.
Pay particular attention to the cards and the relationships to their neighbors. Notice which directions the cards are facing, and how they interact.
Your Comic Strip Reading
| | | |
| --- | --- | --- |
| 8 of Wands | Temperance | 8 of Swords |
| The Hanged Man | 9 of Cups | Ace of Pentacles |
| 7 of Wands | Queen of Cups | 6 of Wands |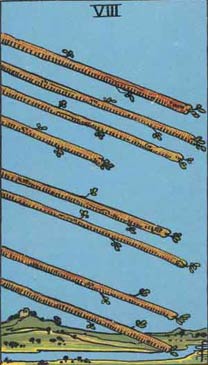 Card 1: 8 of Wands

The card represents motion through the immovable - a flight of wands through an open country; but they draw to the term of their course. That which they signify is at hand; it may be even on the threshold.

Divinatory Meaning:

Activity in undertakings, the path of such activity, swiftness, as that of an express messenger; great haste, great hope, speed towards an end which promises assured felicity; generally, that which is on the move; also the arrows of love.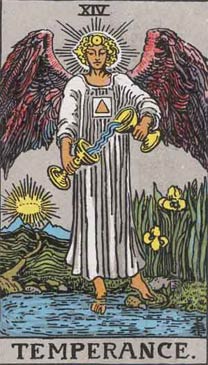 Card 2: Temperance
A winged angel, with the sign of the sun upon his forehead and on his breast the square and triangle of the septenary. I speak of him in the masculine sense, but the figure is neither male nor female. It is held to be pouring the essences of life from chalice to chalice. It has one foot upon the earth and one upon waters, thus illustrating the nature of the essences. A direct path goes up to certain heights on the verge of the horizon, and above there is a great light, through which a crown is seen vaguely. Hereof is some part of the Secret of Eternal Life, as it is possible to man in his incarnation. All the conventional emblems are renounced herein.

So also are the conventional meanings, which refer to changes in the seasons, perpetual movement of life and even the combination of ideas. It is, moreover, untrue to say that the figure symbolizes the genius of the sun, though it is the analogy of solar light, realized in the third part of our human triplicity. It is called Temperance fantastically, because, when the rule of it obtains in our consciousness, it tempers, combines and harmonises the psychic and material natures. Under that rule we know in our rational part something of whence we came and whither we are going.

Divinatory Meaning:

Economy, moderation, frugality, management, accommodation.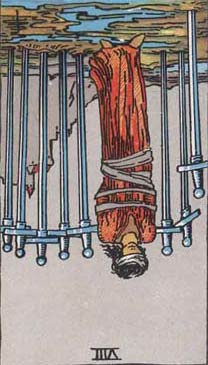 Card 3: 8 of Swords
A woman, bound and hoodwinked, with the swords of the card about her. Yet it is rather a card of temporary durance than of irretrievable bondage.

Reversed Meaning:

Disquiet, difficulty, opposition, accident, treachery; what is unforeseen; fatality.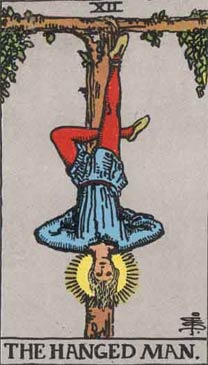 Card 4: The Hanged Man
The gallows from which he is suspended forms a Tau cross, while the figure - from the position of the legs - forms a fylfot cross. There is a nimbus about the head of the seeming martyr. It should be noted (1) that the tree of sacrifice is living wood, with leaves thereon; (2) that the face expresses deep entrancement, not suffering; (3) that the figure, as a whole, suggests life in suspension, but life and not death. It is a card of profound significance, but all the significance is veiled. One of his editors suggests that Eliphas Levi did not know the meaning, which is unquestionable nor did the editor himself. It has been called falsely a card of martyrdom, a card of prudence, a card of the Great Work, a card of duty; but we may exhaust all published interpretations and find only vanity. It expresses the relation, in one of its aspects, between the Divine and the Universe.

He who can understand that the story of his higher nature is imbedded in this symbolism will receive intimations concerning a great awakening that is possible, and will know that after the sacred Mystery of Death there is a glorious Mystery of Resurrection.

Divinatory Meaning:

Wisdom, circumspection, discernment, trials, sacrifice, intuition, divination, prophecy.


Card 5: 9 of Cups
A goodly personage has feasted to his heart's content, and abundant refreshment of wine is on the arched counter behind him, seeming to indicate that the future is also assured. The picture offers the material side only, but there are other aspects.

Reversed Meaning:

Truth, loyalty, liberty; but the readings vary and include mistakes, imperfections, etc.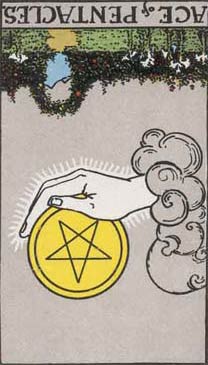 Card 6: Ace of Pentacles
A hand - issuing, as usual, from a cloud - holds up a pentacle.

Reversed Meaning:

The evil side of wealth, bad intelligence; also great riches. In any case it shews prosperity, comfortable material conditions, but whether these are of advantage to the possessor will depend on whether the card is reversed or not.


Card 7: 7 of Wands
A young man on a craggy eminence brandishing a staff; six other staves are raised towards him from below.

Reversed Meaning:

Perplexity, embarrassments, anxiety. It is also a caution against indecision.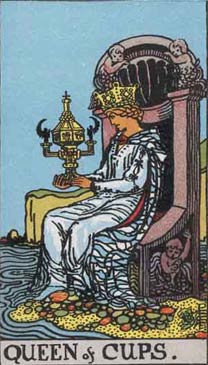 Card 8: Queen of Cups
Beautiful, fair, dreamy - as one who sees visions in a cup. This is, however, only one of her aspects; she sees, but she also acts, and her activity feeds her dream.

Divinatory Meaning:

Good, fair woman; honest, devoted woman, who will do service to the Querent; loving intelligence, and hence the gift of vision; success, happiness, pleasure; also wisdom, virtue; a perfect spouse and a good mother.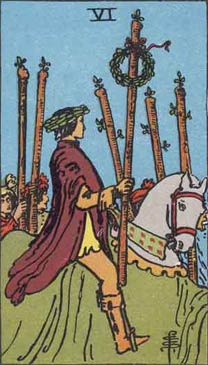 Card 9: 6 of Wands
A laurelled horseman bears one staff adorned with a laurel crown; footmen with staves are at his side.

Divinatory Meaning:

The card has been so designed that it can cover several significations; on the surface, it is a victor triumphing, but it is also great news, such as might be carried in state by the King's courier; it is expectation crowned with its own desire, the crown of hope, and so forth.