Decision Spread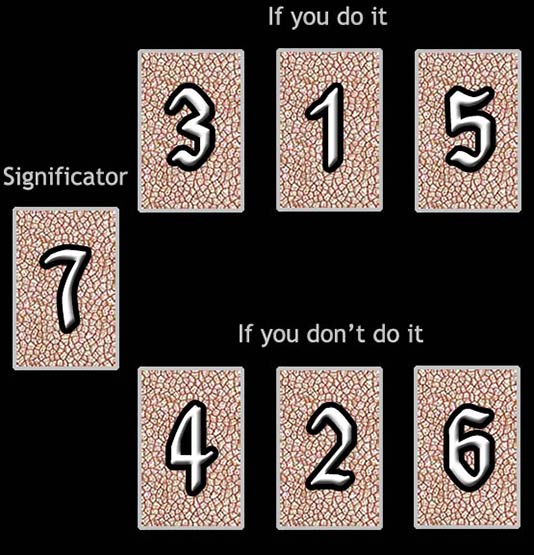 Difficulty: Easy
This simple but highly useful spread calls for a question to be asked in this format:
"What happens if I do (X), and what happens if I do not do (X)?"
Please note that it should not be viewed as a decision between 2 different options, but about whether or not a single option should be exercised. A second option would call for a separate reading.
Card #7 is the significator, the overall theme of the query.
Cards #3, #1, & #5 represent the chronological sequence of events that occurs if you choose to do (X).
Cards #4, #2, & #6 represent the chronological sequence of events that unfolds if you choose NOT to do (X).
Your Decision Reading
The Significator

Page of Cups
Outcome if you do it:

2 of Wands

5 of Cups

Knight of Pentacles
Outcome if you don't do it:

6 of Swords

3 of Cups

9 of Cups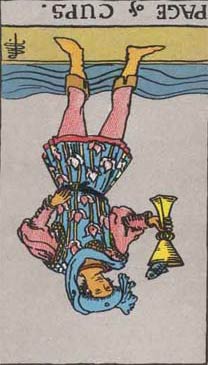 Page of Cups

A fair, pleasing, somewhat effeminate page, of studious and intent aspect, contemplates a fish rising from a cup to look at him. It is the pictures of the mind taking form.

Reversed Meaning:

Taste, inclination, attachment, seduction, deception, artifice.

Outcome if you do it: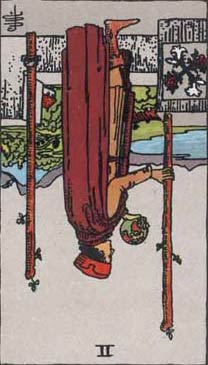 2 of Wands

A tall man looks from a battlemented roof over sea and shore; he holds a globe in his right hand, while a staff in his left rests on the battlement; another is fixed in a ring. The Rose and Cross and Lily should be noticed on the left side.

Reversed Meaning:

Surprise, wonder, enchantment, emotion, trouble, fear.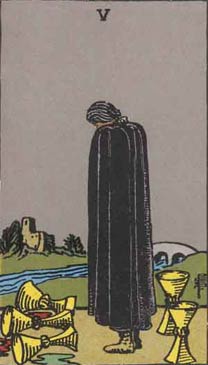 5 of Cups

A dark, cloaked figure, looking sideways at three prone cups two others stand upright behind him; a bridge is in the background, leading to a small keep or holding.

Divinatory Meaning:

It is a card of loss, but something remains over; three have been taken, but two are left; it is a card of inheritance, patrimony, transmission, but not corresponding to expectations; with some interpreters it is a card of marriage, but not without bitterness or frustration.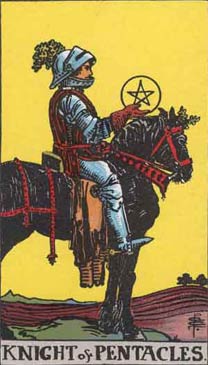 Knight of Pentacles

He rides a slow, enduring, heavy horse, to which his own aspect corresponds. He exhibits his symbol, but does not look therein.

Divinatory Meaning:

Utility, serviceableness, interest, responsibility, rectitude - all on the normal and external plane.

Outcome if you do not do it: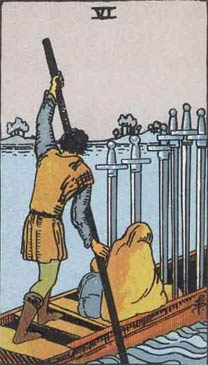 not1card

A ferryman carrying passengers in his punt to the further shore. The course is smooth, and seeing that the freight is light, it may be noted that the work is not beyond his strength.

Divinatory Meaning:

Journey by water, route, way, envoy, commissionary, expedient.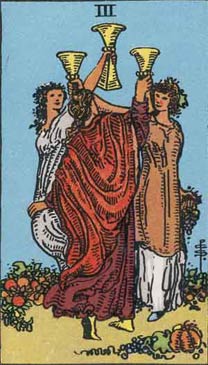 3 of Cups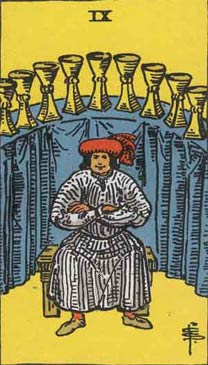 do3card

A goodly personage has feasted to his heart's content, and abundant refreshment of wine is on the arched counter behind him, seeming to indicate that the future is also assured. The picture offers the material side only, but there are other aspects.

Divinatory Meaning:

Concord, contentment, physical bien-?tre; also victory, success, advantage; satisfaction for the Querent or person for whom the consultation is made.