3 Card Spread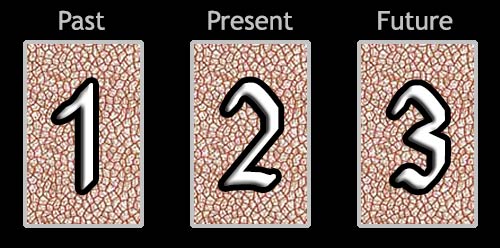 Difficulty: Very easy
This simplistic chronological spread can be used to shed light on the influences that are now behind you, current influences, and what is approaching in the near future. Not much explanation is necessary on this one.
Your 3 Card Reading
The Past

10 of Cups
The Present

Queen of Cups
The Future

Ace of Cups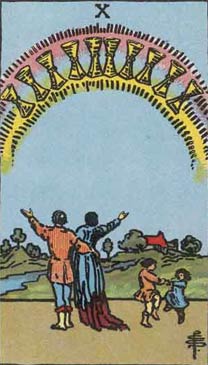 The Past

10 of Cups

Appearance of Cups in a rainbow; it is contemplated in wonder and ecstacy by a man and woman below, evidently husband and wife. His right arm is about her; his left is raised upward; she raises her right arm. The two children dancing near them have not observed the prodigy but are happy after their own manner. There is a home-scene beyond.

Divinatory Meaning:

Contentment, repose of the entire heart; the perfection of that state; also perfection of human love and friendship; if with several picture-cards, a person who is taking charge of the Querent's interests; also the town, village or country inhabited by the Querent.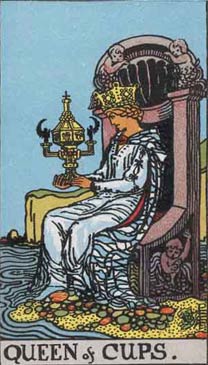 The Present

Queen of Cups

Beautiful, fair, dreamy - as one who sees visions in a cup. This is, however, only one of her aspects; she sees, but she also acts, and her activity feeds her dream.

Divinatory Meaning:

Good, fair woman; honest, devoted woman, who will do service to the Querent; loving intelligence, and hence the gift of vision; success, happiness, pleasure; also wisdom, virtue; a perfect spouse and a good mother.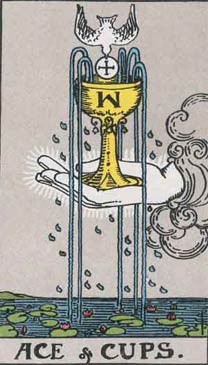 The Future

Ace of Cups

The waters are beneath, and thereon are water-lilies; the hand issues from the cloud, holding in its palm the cup, from which four streams are pouring; a dove, bearing in its bill a cross-marked Host, descends to place the Wafer in the Cup; the dew of water is falling on all sides. It is an intimation of that which may lie behind the Lesser Arcana.

Divinatory Meaning:

House of the true heart, joy, content, abode, nourishment, abundance, fertility; Holy Table, felicity hereof.