3 Card Spread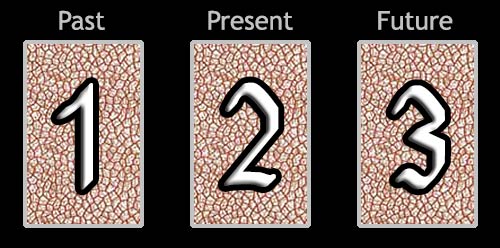 Difficulty: Very easy
This simplistic chronological spread can be used to shed light on the influences that are now behind you, current influences, and what is approaching in the near future. Not much explanation is necessary on this one.
Your 3 Card Reading
The Past

2 of Pentacles
The Present

King of Cups
The Future

Knight of Wands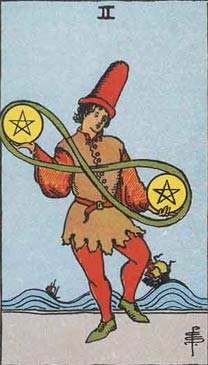 The Past

2 of Pentacles

A young man, in the act of dancing, has a pentacle in either hand, and they are joined by that endless cord which is like the number 8 reversed.

Divinatory Meaning:

On the one hand it is represented as a card of gaiety, recreation and its connexions, which is the subject of the design; but it is read also as news and messages in writing, as obstacles, agitation, trouble, embroilment.
The Present

King of Cups

He holds a short sceptre in his left hand and a great cup in his right; his throne is set upon the sea; on one side a ship is riding and on the other a dolphin is leaping. The implicit is that the Sign of the Cup naturally refers to water, which appears in all the court cards.

Divinatory Meaning:

Fair man, man of business, law, or divinity; responsible, disposed to oblige the Querent; also equity, art and science, including those who profess science, law and art; creative intelligence.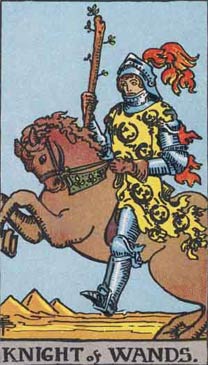 The Future

Knight of Wands

He is shewn as if upon a journey, armed with a short wand, and although mailed is not on a warlike errand. He is passing mounds or pyramids. The motion of the horse is a key to the character of its rider, and suggests the precipitate mood, or things connected therewith.

Divinatory Meaning:

Departure, absence, flight, emigration. A dark young man, friendly. Change of residence.